"It's very hard to find a program that can bring together startups with similar solutions and development stages, and really offer valuable fundraising, commercialization, and team-building experiences," said Juan Guzman, founder and CEO of Capro-X, an Ithaca-based startup upcycling agricultural waste into sustainable biochemicals. "Climate Collider brought together a competitive and impressive cohort of companies that I know I can lean on to share experiences and learn from, and that can push me towards greater excellence."
Climate Collider, a startup exchange program powered by Swissnex and Innosuisse, the Swiss Innovation Agency, brings together top climatetech startups from Switzerland and the US to facilitate peer-to-peer learning and create an international support network between early-stage climatetech entrepreneurs. The inaugural cohort in fall 2023 brought a diversity of backgrounds and experiences to the table, as well as complementary Swiss and American approaches to entrepreneurship. Throughout the program, participants had the opportunity to draw on each other's knowledge as they worked toward their goals.
From New York to Boston 
After attending Climate Week NYC, a festival described by the New York Times as "Burning Man for Climate Geeks," and taking part in a virtual tour of climatetech ecosystems around the globe, the cohort gathered in Boston for a week of collaborative learning and the chance to explore what climate innovation means in Massachusetts, the US state with the highest density of climatetech startups. In a session on government grants and a presentation by climate policy expert Benjamin Sovacool, Director of the Institute for Global Sustainability at Boston University, they learned about some of the many policy challenges and opportunities posed by climate change. In visits to Harvard's Wyss Institute and Greentown Labs, the largest climatetech incubator in North America, they got a look at some of the organizations fostering Boston's emerging climate innovation scene.
Throughout the week in Boston, the cohort continued to learn from each other. In a challenges workshop, participants helped each other brainstorm solutions to the roadblocks their startups are facing. In another session with Boston-area founders, they got firsthand advice on hiring, scaling, and funding. In small-group meetings with investors, they practiced their pitches and received constructive feedback. Meanwhile, the program pushed participants to get outside their comfort zones, learning how to command the stage in a performance workshop and opening up about their experiences of failure with founders at Martin Trust Center for MIT Entrepreneurship.
Thinking Bigger, Together
As the week continued, they incorporated these new skills and experiences into their pitches, which they delivered at the Climate Collider Pitch Night on October 12, before an audience representing Boston's leading VC firms, other innovators and entrepreneurs, and an expert panel of judges. The winner of both the audience vote and the jury's decision was Active Surfaces, a Cambridge-based startup creating lightweight flexible solar modules.
The core of Climate Collider is the connections it forges between Swiss and US climatetech entrepreneurs. During the organized workshops, but also during the downtime between sessions, the participants were able to connect, exchange knowledge, and spark new ideas.  The program was "an excellent opportunity for young entrepreneurs to collide with each other and broaden our horizons," said Panagiotis Martakis, founder and CEO of Irmos. "This program pushes us to think much bigger." "I personally thought that the greatest benefit of the program was meeting the other participants," said James Bareham, Brand Director and Chief Marketing Officer at MobyFly.
Climate Collider is powered by Swissnex and Innosuisse, the Swiss Innovation Agency. The second edition of Climate Collider will take place in March 2024.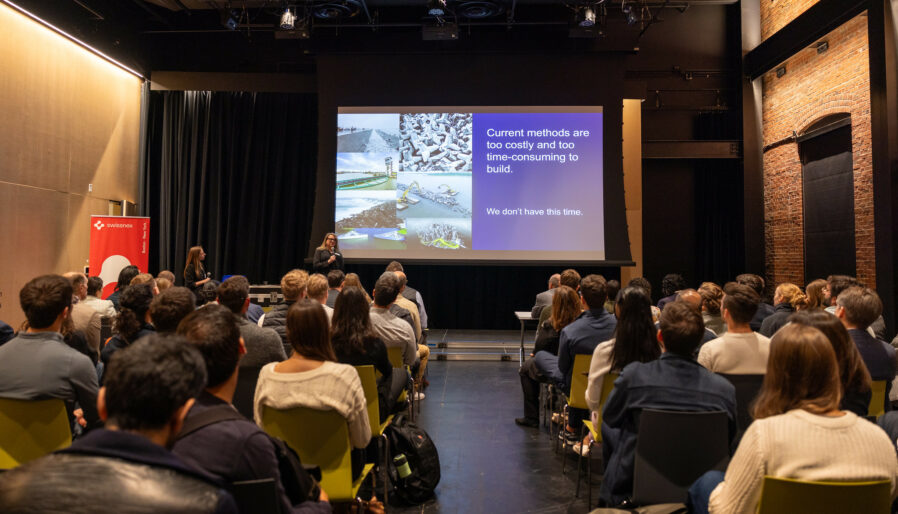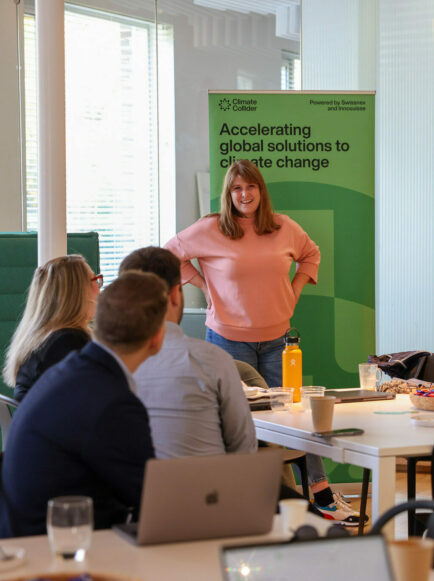 To view more from the first edition, watch our video and explore the photo collections from the Climate Innovators Café, the Climate Collider Pitch Night, and the rest of the Boston week.