About us

Swissnex

The Swiss global network for education, research and innovation

Discover

Swissnex

The Swiss global network for education, research and innovation

Our work

Swissnex

The Swiss global network for education, research and innovation

Our impact

Swissnex

The Swiss global network for education, research and innovation

Swissnex

The Swiss global network for education, research and innovation
Article by Matteo Madi
The European Space Agency (ESA) SOLARIS program [1] emphasizes that the challenge of addressing the climate emergency on one hand is driven by energy, as energy accounts for over 70% of global CO2 emissions. The world needs reliable, clean, and affordable energy that can be scaled into the future, while energy demands rise over the coming decades.
Space-Based Solar Power (SBSP) has the potential to be a significant contributor to the balanced portfolio of clean energy solutions in Europe – and in the world ‒ that will be needed to meet the Net Zero goal. Recent studies have indicated that SBSP is technically feasible, economically viable and potentially strategically important, offering substantial economic and commercial opportunities [1].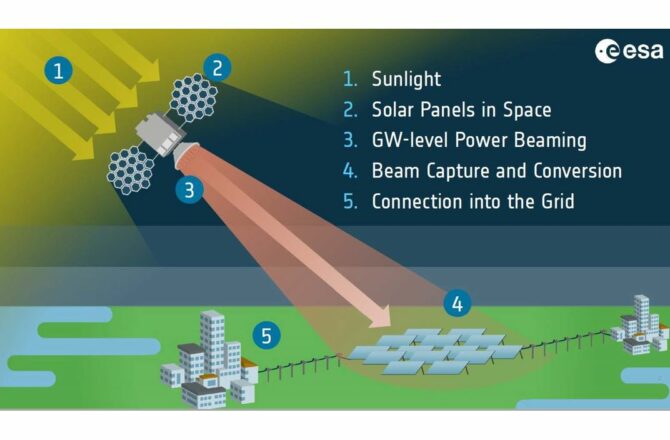 The estimated SBSP electricity cost is in the range 50‒200 €/MWh, which corresponds to the best case and worst case scenarios project for 2050. As an indication, this can be compared to onshore wind electricity cost, 49 €/MWh, and Nuclear Power electricity cost, 105 €/MWh (value adjusted cost of energy in 2050). Consequently, SBSP could provide competitively-priced electricity to private homes and businesses, displacing fossil-fuels and some nuclear, while complementing renewables like solar PV and wind, reducing the need for large-scale storage solutions. On the other hand, when deployed at full scale, SBSP would provide substantial environmental, economic, and strategic benefits for nations, including energy security [1].
Japan is a pioneer of transferring Solar Energy From Space to Earth [2]. R&D on space solar power systems began in Japan in the 1980s by Prof. Hiroshi Matsumoto at Kyoto University, the efforts which is now continued by Prof. Naoki Shinohara at the Research Institute for Sustainable Humanosphere (RISH), Kyoto University.  Japan has a particular interest in finding alternative clean energy sources, especially taking into account the lack of surface for renewable power plants installations. Research and development of technologies necessary to realise the solar power generation system in space for clean and stable energy utilisation without any geopolitical influences, was set as the ultimate goal in Japan's Basic Plan for Space Policy. Japan Aerospace Exploration Agency (JAXA) has a technology road map that suggests a series of ground and orbital demonstrations leading to the development of an operational solar power satellite system.
For Switzerland, as a founding member, the European Space Agency remains the most important and necessary instrument for the implementation of the Swiss Space Policy. Swiss industry has a particular interest in the development of key enabling technologies for SBSP in Europe, through ESA's SOLARIS program. This includes, wireless power transfer (WPT) and photovoltaic technologies, the former being led by the Swiss innovative company, Sirin Orbital Systems AG, who is closely working with its Japanese partners to advance technological challenges in the field.
The "Japan-Switzerland SBSP/WPT Workshop" was hosted then at the Kyoto University Tokyo Office on the 1st of November 2022 [3]. The event started by opening remarks from Mr. Koji INA, Director of Space Industry Office at the Japan's Ministry of Economy, Trade and Industry (METI), and Ms. Kyoko MARUMO SUZUKI, Head, Science and Technology Office Tokyo, Embassy of Switzerland in Japan. There were 60 hybrid participants among which 17 attended in person in Tokyo.
The workshop was focused on the Japanese and Swiss advancements in the field of Space-based Solar Power (SBSP), and more specifically Wireless Power Transfer (WPT) technologies. The following entities presented their technical work on the SBSP/WPT topic in a highly interactive workshop: Japan Space Systems, SoftBank corp., Kyoto University, Kanazawa Institute of Technology, Institute of Space and Astronautical Science ISAS /JAXA, and Sirin Orbital Systems AG.
External references:
[1] ESA SOLARIS program: https://www.esa.int/Enabling_Support/Space_Engineering_Technology/SOLARIS
[2] nextrends Asia article: https://nextrendsasia.org/japan-pioneer-of-transferring-solar-energy-from-space-to-earth/
[3] RISI news: https://twitter.com/RISH_KyotoUniv/status/1587595823499837440
About the author
Matteo Madi

---

Matteo Madi

Matteo Madi, PhD, is an entrepreneur, business developer and space-tech specialist with over twelve years of experience in the Swiss and International public and private sectors. He obtained his doctorate from Swiss Federal Institute of Technology in Lausanne (EPFL) and worked at the European Space Research and Technology Centre (ESTEC, ESA). He is designated as inventor by the European Patent Office for three inventions. Dr. Madi is Founder and Managing Director at Sirin Orbital Systems AG – an innovative company based in Zürich, Switzerland, specialized in the development of advanced technologies for diverse needs of emerging space market, with a sharp focus on Wireless Power Transfer (WPT) key technologies for Space-Based Solar Power (SBSP) and commercial applications. The company also provides solutions for the use of space technologies and satellite-based services for sustainable ground-based applications. In this line, Sirin Orbital Systems AG is leading strategic cooperative projects with Japanese high-tech sectors.