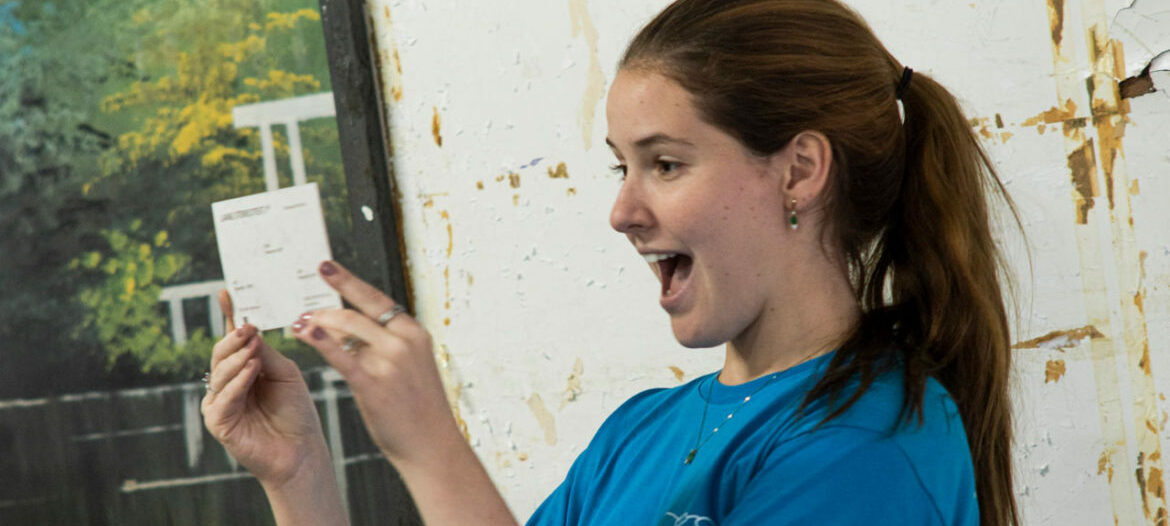 Escolhares
Children with eyesight disabilities face learning difficulties. Frequently, neither their families nor the school professionals are prepared to identify and address this problem. Escolhares aims to address this.
Learn about the NGO
The NGO Escolhares, created in Switzerland, carries out initiatives in public schools of Rio de Janeiro with Swiss and Brazilian volunteers. In August 2019, Swissnex in Brazil hosted an academic residency with Medical and Nursing students from the Laboratory for Investigative Neurophysiology at the University of Lausanne (Unil). The group performed exams and delivered glasses to children in schools in impoverished areas of the city.
Katia Steinfeld is a Swiss-Brazilian 5th year medical student at Unil. She was raised in Rio where she started her medical studies before moving to Lausanne in 2016. She is currently enrolled in the Md-PhD program, and is working on her masters research project about the cortical impact of myopia at the Laboratory for Investigative Neurology – Unil. With the support of the Clinton Global Initiative University and the International Relations department at Unil, she created and runs the Escolhares project. In addition, she has been involved in several other social entrepreneurship projects that have competed abroad. Katia tells more about the Escolhares initiative in this interview.
Stories
What is Escolhares?
Escolhares' goal is to provide eye care to children that don't have access to ophthalmology services. We thus bring trained medical students, ophthalmologists, and mobile eye clinics to elementary public schools of Rio. They offer free vision screenings and complete eye exams to all the students, inside the schools. All prescribed eyeglasses are given to the kids, and any further treatment necessary is also covered. We come back to the schools after two years, for follow-up.
Swiss volunteer students from the Escolhares Project. At the centre, Katia Seinfeld, president of the NGO.
How did it begin?
It all started in 2015, among Brazilian medical students, as a bachelors' thesis. When screening 200 kids in a small elementary school, we found that more than 15% had uncorrected eyesight problems. Shocked by this result, we designed a solution that could bring ophthalmologists, eyeglasses, and information to the schools. In 2016, I moved to Switzerland to continue my studies, and thanks to the support of the University of Lausanne and the Clinton Global Initiative University, created Escolhares, a public utility association.
How would you describe its social impact?
Since the NGO was created in 2017, 2'500 kids from 4 to 12 years old have been screened. Of these, 600 showed a subnormal vision and were examined by ophthalmologists in their schools. Close to 300 pairs of eyeglasses were donated so far, including correction for high ametropias. We've also provided external consults and treatment to 15 kids with more complex pathologies. In addition, we've developed a primary prevention program that informs students, parents, and teachers on how to take care of children' eyesight. Lastly, we've given more than 400 Swiss and Brazilian medical and nursing students training to perform vision screenings for children.
How do volunteers get involved and what do they experience?
The project is based on volunteerism. Most of the volunteers are medical students in Switzerland and Brazil. We also have people from other areas helping us in both countries, including members of the school communities where we've worked. Some of them get involved for a specific task only, others prefer to stay on board long term. In Switzerland, we have 70 members and 10 directors. They handle all the financial, administrative as well as research and development areas. In Brazil, five coordinators are in charge of recruiting volunteers and doctors as well as planning the actions with the schools. Before each action, the Brazilian coordinators train around 70 medical and nursing students to perform vision screenings for children. These trained volunteers then go to the schools and screen all of the kids enrolled. The results are saved in our app, linked to our database, and we identify the children needing further eye exams. In a second step, mobile clinics are set up in the schools, and ophthalmologists provide the selected children with complete exams. During this step, the medical and nursing students volunteers serve as auxiliary to the doctors, setting up the equipment, organizing the waiting room, handling the data, etc.… Lastly, when the eyeglasses are ready we host an event for kids, teachers and parents at the schools. It's an opportunity to bring information about children' eyesight and to give positive reinforcement to the kids getting eyeglasses for the first time. Once a year, 10 Swiss medical and nursing students travel to Rio to join our Brazilian volunteers on the field. We provide them with the opportunity to do service in a very pragmatic way. The result of your hard work is embodied in a pair of eyeglasses and the smile of the child when they put them on for the first time. Together we learn to communicate and to collaborate with people from very diverse backgrounds. We believe that we are contributing to training doctors with a more wholesome vision of health and its determinants. If you'd like to join us in bringing eyesight to children, please contact us!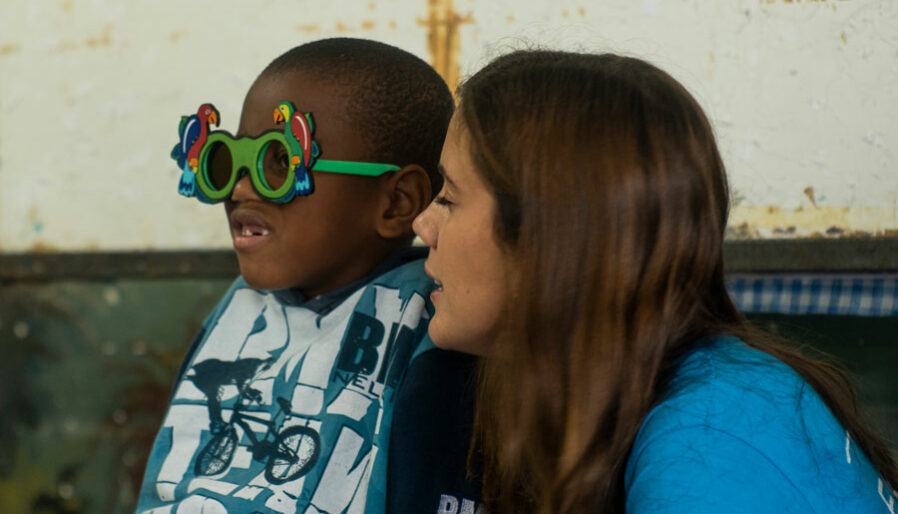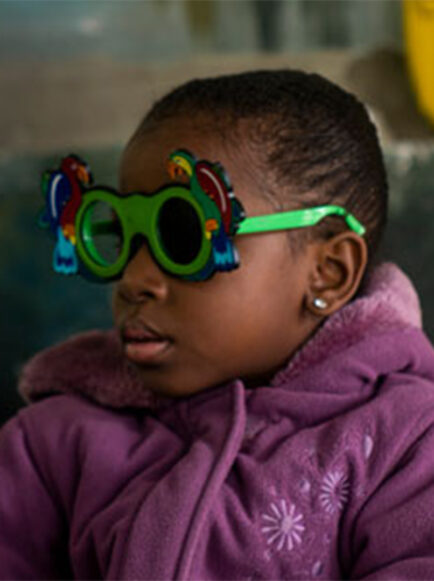 Students assisted by the Project
Escolhares aims to provide eye care to 3'000 kids in 5 public schools of Rio.
What are Escolhares' plans?
Our goal is to go beyond the social action and to transform Escolhares into a social innovation lab. We want to generate relevant data about the children's vision, publishing it is not only among the scientific community but foremost bringing information to elementary schools around the world. By inducing an exchange of knowledge between the academic environment and elementary schools, we can design more efficient solutions, built mainly with, and for, the people we serve. We are now taking our first step in that direction. We'd like to understand better the impact our project has in the communities. How does the state of ophthalmological health evolve in the schools that we follow for two years? What are parents, teachers, and students learning about eye care through our project? For the children we give eyeglasses to, and thus improve eyesight, how does it affect their overall development? To set up a research project, we are collaborating with Swiss and Brazilian institutions that are experts in these different departments. We'll collect the data from 2020 on while providing eye care to 3'000 kids in 5 public schools of Rio.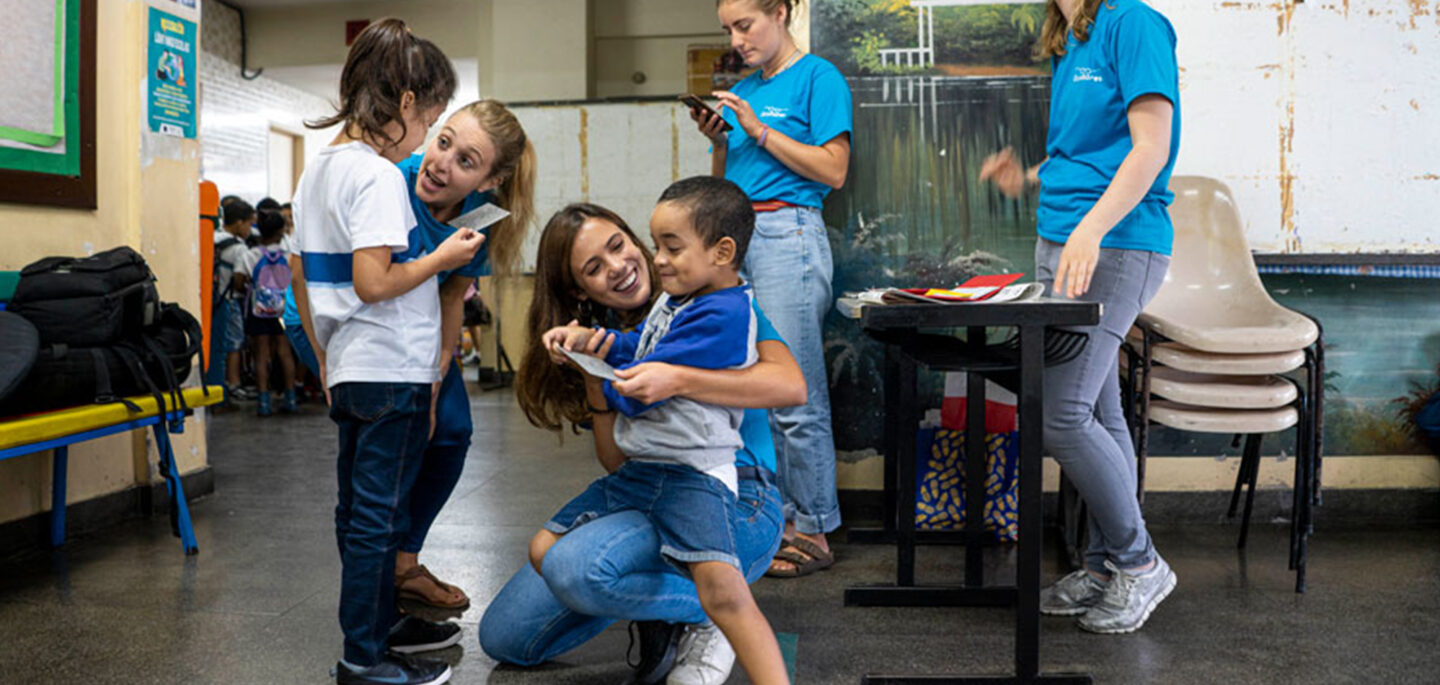 How was your residency at Swissnex in Brazil?
Swissnex in Brazil provided us with an excellent work environment; both by receiving us in their comfortable office space as well as introducing us to crucial partners. Their hospitality allowed us to build strong institutional links and thus opened many doors for future developments. Thank you!