– by Vincent Neumann, Innovation & Startups Program Manager
Walking a few steps into pavilion 4 of Riocentro, the gigantic area where the spectacle happened, you could see the letters "swisstech" in vibrant neon green sticking up above the other stands. Getting closer, you are met by an artistic interpretation of the Matterhorn mountain, the four-legged robot "ANYmal" from Anybotics, the smell of coffee from Nescafé's Dolce Gusto Neo with biodegradable capsules, and delicious Lindor chocolate from Lindt.

Stepping on our 54 square meters, you are greeted by the Swissnex team, who will introduce you to the world of Swiss innovation and the swisstech campaign and its ambassadors, 11 Swiss-based startups on a mission to fortify their foothold in the Brazilian market.
Interactions are flowering, and connections are formed everywhere, between startups and investors or potential clients, between Brazilian industry experts and Swiss counterparts, and on the swisstech stage that was the scene of a rich program of keynotes and roundtables.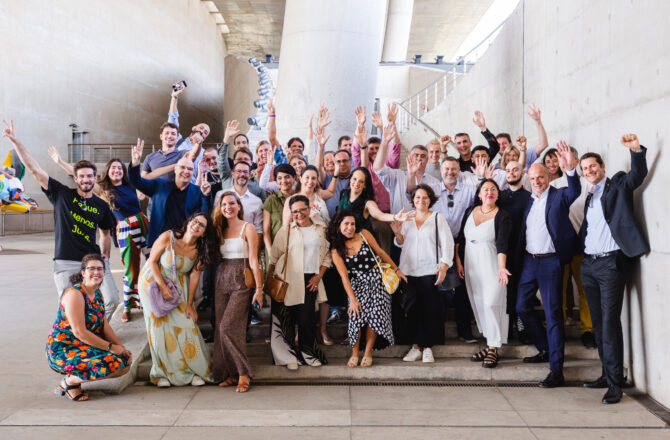 Now it begins
On Tuesday, the doors to the exhibitions open, and the Swisstech pavilion is declared open by our CEO, Malin Borg, and the Consul General of Switzerland in Rio de Janeiro, Bernhard Furger. The day is dedicated to introducing Swiss initiatives, programs, and opportunities in research and innovation, from the Swiss Digital Policy and the Swiss Digital Initiative (SDI) to the flagship Academia-Industry Program (AIT), presented by Rocio Robinson from the University of St.Gallen.
Wednesday's program is aligned with the Web Summit's most prominent focus areas of Fintech, Crypto, Cybersecurity, and Healthtech, and the day was kicked off with an inspiring session about Women in Tech. Industry leaders from Switzerland and Brazil formed all panels and roundtable discussions to identify synergies and niche areas where existing collaboration should be fortified and new ones can flower.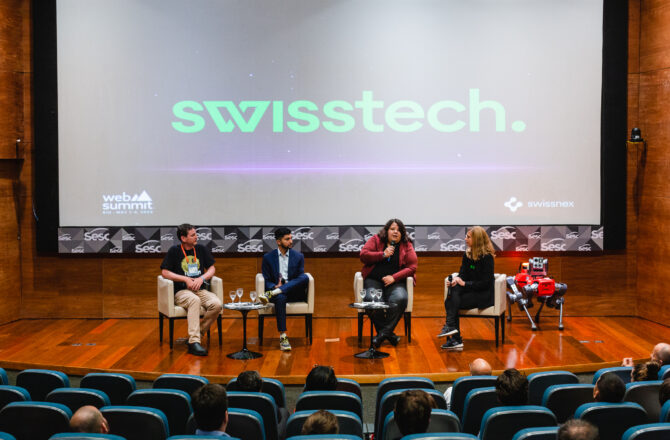 The final day
The final sprint has come, and Talks @ swisstech is presenting an outlook on sustainable development with a discussion about "Can Tech Save the World?", a roundtable about the Future of Food, and a presentation about Swissnex's novel bioeconomy program. 
The startups were integrated into various parts of the program to showcase their solutions: A pitch competition on Tuesday, a session about startup success stories on Wednesday, and participating in different thematic sessions.
Connecting
Through the swisstech pavilion, we could consolidate months of "connecting the dots" within only three days, and valuable connections and partnerships were facilitated on this literal platform of bilateral collaboration. For Swissnex as a global trend scout, the Web Summit has also provided a precious peak at the forefront of innovation trends, and promising areas of cooperation have been identified, such as Digital Trust and Cybersecurity. 
Now it is time to focus on the countless encounters' follow-ups and turn synergies and conversations into genuine partnerships and projects in research, education, and innovation.
Swisstech at the Web Summit

Take a look in a little bit at what happened during the four days of the first Web Summit in Rio de Janeiro