Swiss clean technologies are set to play a pivotal role in fueling the growth of Brazil's clean tech sector. With a focus on renewable energy like solar energy or green hydrogen and technological solutions for carbon capture, waste management, energy efficiency, and environmental preservation, the Swiss-Brazilian collaboration promises to bring forth innovative solutions that tackle environmental challenges while fostering economic growth.
July was an important month for accelerating this collaboration. Swissnex in Brazil, in collaboration with the Swiss Business Hub Brazil, supported six top-tier sustainable startups who, as part of a 70-head business and science delegation, accompanied Federal Councillor and Minister of Economic Affairs, Education, and Research, Guy Parmelin on his official mission to Brazil.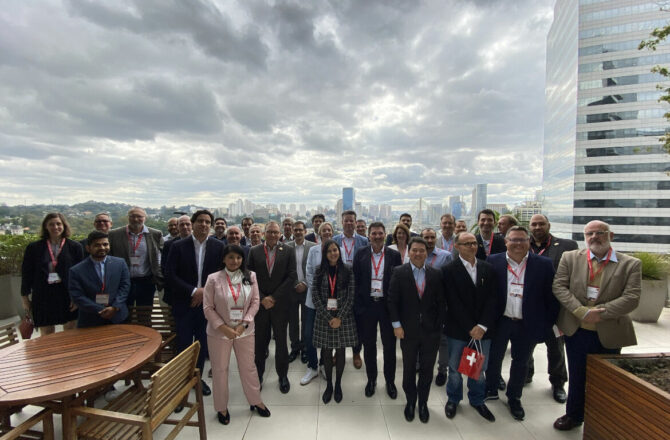 Brazil has established ambitious climate targets and enacted measures to achieve them. These objectives include a 30% reduction in methane emissions by 2030, according to the Glasgow Climate Pact, and a 50% decrease in greenhouse gas emissions by 2030 compared to levels from 2005. Additionally, the nation aims to achieve net-zero emissions by 2050, as outlined in the Paris Agreement. Brazil has adopted various policies to facilitate these goals, such as elevating the proportion of renewable energy sources in the electricity grid, promoting sustainable practices in agriculture and forest management, and making investments in clean transportation.
Renowned for its eco-friendly energy composition, Brazil's assortment of clean energy sources is among the most sustainable and diverse globally. The country has historically relied upon renewable sources like hydropower, biomass, and wind energy to fulfill a significant portion of its electricity requirements. Over recent years, Brazil has notably advanced in adopting solar power, experiencing a more than fourfold increase in installed photovoltaic systems within the past four years. This blend of renewable energy resources has enabled Brazil to curtail its greenhouse gas emissions, positioning it as a worldwide frontrunner in the realm of sustainable energy generation and becoming a leading producer of the future's fuel, green hydrogen.
As Brazil seeks to diversify its energy sources and reduce its carbon footprint, Swiss companies are poised to offer their expertise in clean technologies. Leading Swiss innovators renowned for their prowess in green technologies have expressed keen interest in collaborating with Brazilian counterparts. This connection is not just about the transfer of technology but also knowledge-sharing and skill enhancement, enabling Brazil to harness its abundant renewable resources more efficiently.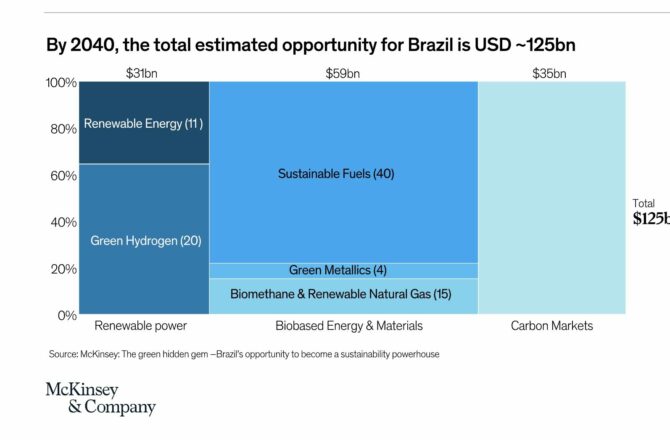 Switzerland is one of the ten countries worldwide with the most sustainable startups. Per capita, Switzerland has the lead. Nowhere is the density higher of young technology companies whose products or services contribute to the transition to a sustainable economy. This is also reflected in the investments: in 2020, sustainable startups in Switzerland were responsible for almost 20 percent of all financing rounds, receiving more than 20 percent of the total venture capital invested.
Now, six ambassadors of this movement are exploring new international markets to scale their impact and growth in Brazil's welcoming markets for solar energy, ethanol, over agriculture, the shipping industry, and many more: SoHHytec, Inergio, Daphne Technology, Sasit Lab, UniSieve and Groam Tech.
As the world witnesses the pressing need to address climate change and environmental degradation, the Swiss-Brazilian partnership demonstrates the power of international cooperation in creating impactful solutions for a more sustainable future. Waiting for the founders to return soon and for the startups' technologies to arrive, Swissnex in Brazil is eager to continue catalyzing new Swiss-Brazilian partnerships.
Meet the Startups
Bio

---

Sasit Lab

Startup

Sasit Lab, Sasan Innovation & Technologies, is a Swiss research institute with a team of over 30 scientists, engineers, and experts in various fields. From sustainable building materials to renewable energies to carbon fiber recycling and hydrogen storage, they innovate now so we live better in the future on a healthier planet.

Bio

---

Groam Tech

Startup

Groam is on a mission to reduce plastic and plastic foam where it makes sense. We offer new materials based on agricultural side streams that behave similarly to plastic and can be processed with standard industrial machinery. Compared to the competition, we do not use harmful or toxic chemicals, we don't rely on arable land, we have special features like fire resistance, and we can foam our materials, making them lightweight.

Bio

---

Daphne Technology

Startup

Daphne Technology has developed a patented breakthrough after-treatment exhaust gas cleaning technology based on plasma catalysis. The heart of innovation is an Electron Chamber and Wavelet Pulsed Package (WPP) power supply. High-energy electrons are generated in the Electron Chamber via electrical excitation from the WPP and are used as reagents to break down pollutant atoms in the exhaust flow.

Bio

---

Inergio

Startup

Inergio is developing a miniaturized fuel cell system based on SOFC technology. The system is perfect for providing electricity in remote places thanks to its miniaturized size. This system's advantage is the possibility of using various types of commercially available fuels (propane, methane, bio-ethanol) in addition to the classic hydrogen.

Bio

---

SoHHytec

Startup

SoHHytec is a provider of sustainable fuels and power solutions. SoHHytec designs, develops, and builds infrastructure projects using their proprietary product – called 'Arb' – to provide green fuel and power as a service. Developer and provider of Gardens and Forests of proprietary Artificial Trees for decentralized and centralized Solar Fuel (Hydrogen) and Power production, giving energy security, independence, and carbon negativity.