The Soothsayings of Iris [Recording]
For the open call Beyond 2020: A (Post-) Pandemic Practice, Maria Guta and Lauren Huret made the short movie The Soothsayings of Iris, their first ever collaborative artwork.
Based on the "73 Questions" Vogue format and examining the "viral" type formats by highlighting their problematic aspects and their instant worldwide broadcasting – this prophetic satire is an interview with a fictional character, a mash-up of several intriguing public figures that populate our networks. Also inspired by their adoptive Swiss environment and the US West Coast, the artists are fascinated by the spread of specific ideologies like new-age mysticism, tech gurus and the phenomenon of over-hyped celebrities. The piece is a commentary on how we deal with digital identity and the influence of media representation on the collective psyche.
Program
10:00am – Introduction by Mary Ellyn Johnson
10:05am – Presentation of The Soothsayings of Iris by Maria Guta and Lauren Huret
Event start time
USA

12:00PM

Boston and New York

1:00PM

Brazil

3:00PM

China

2:00AM

India

11:30PM

Switzerland

7:00PM

Boston

1:00PM

San Francisco

10:00AM
Host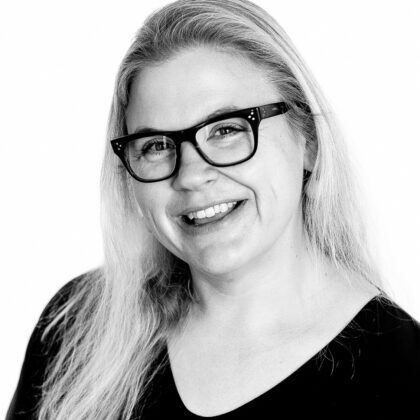 Head of Exhibitions at swissnex San Francisco, Mary Ellyn previously worked at the San Francisco Art Institute as a curator and the Walker Art Center, Minneapolis as a research librarian. She has masters degrees in both Art History (Richmond University, London) and Cultural Studies (University of London, Birkbeck College, London Consortium). Her main interests are contemporary art at the nexus of research and education, Film and all things Scandinavian.
Bios
Bio

---

Lauren Huret

Visual Artist

Lauren Huret's work is mainly composed of videos, installations, performances and collages, is based on an on-going examination of the influence of media and tech culture on belief systems. She has exhibited at Kunsthaus Langenthal, Hard Hat Gallery in Geneva, La Panacée in Montpellier, Copenhagen Contemporary, at Centre d'art contemporain de Genève, at Centre Culturel Suisse in Paris, at the Haus der Elektronischen Kunste in Basel, at Jeu de Paume in Paris.

Bio

---

Maria Guta

Artist

Maria's work mainly looks into mechanisms of self-representation which she reenacts by placing herself both behind and in front of the camera. Perpetually constructing and curating alternate cyber-identities, she makes use of immersive digital tools and social media in her work. She holds a BFA in Graphic Design from The National University of Arts in Bucharest and a MA in Art Direction from École cantonale d'art de Lausanne (ECAL).
The Soothsayings of Iris

The Soothsayings of Iris, Maria Guta and Lauren Huret, video, 21 minutes, 2020
The Soothsayings of Iris

Maria Guta and Lauren Huret reveal their inspirations, references and characters behind The Soothsayings of Iris while sharing some of the milestones along their adventurous filmmaking journey.