Metric Displacement Opening Event
As part of the open call Beyond 2020: A (Post-) Pandemic Practice, artists Annie Aries, Brian House, and Marcel Zaes will unveil their installation Metric Displacement.
In an introductory conversation, the artists will discuss the conceptual underpinnings of the work, the remote collaboration between the three geographically distanced artists due to the pandemic (Bern, Switzerland; Portland, OR; and Providence, RI), and the production of sound via analog synthesis, open-source software, vinyl, and Zoom itself as a rhythmic instrument. The conversation is followed by a Q&A session before Metric Displacement will officially open its virtual doors to the audience.
About the Exhibition: Metric Displacement Installation: For Metric Displacement (2021), experimental sound artists Aries, House, and Zaes each make beats that reflect their own individual experiences of place. Each beat is subsequently cut into a lock groove on a vinyl record and played on a turntable in one of multiple global sites: Bern (Switzerland), Providence (Rhode Island), and Portland (Oregon). These are streamed to a video conference (via Zoom) meeting, so that they can be experienced together, subject to the temporal distortions inherent to online relationships. Every day, a docent at each location selects a new lock groove, creating unpredictable and emergent rhythmic combinations that can only be experienced online.
This work is part of the Beyond 2020: A (Post-) Pandemic Practice series which explores our current times since the global pandemic changed the world in 2020. Artists presented in this series pose questions about our realities, identities and societies that have been shaped and transformed by digital tools that have become intertwined in our daily lives since society has been uprooted. This work focuses on the idea of physical space and isolation during our current times, where people are finding new connections to and meaning in their physical location while also finding new ways to connect and collaborate digitally.
Program
12:00pm – Event begins, conversation with artists
12:30pm – Q&A
12:55pm – Metric Displacement officially opens its virtual doors
1:00pm – End of the program
Event start time
USA

2:00PM

Boston and New York

3:00PM

Brazil

4:00PM

China

3:00AM

India

12:30AM

Switzerland

8:00PM

Boston

3:00PM

San Francisco

12:00PM
Moderator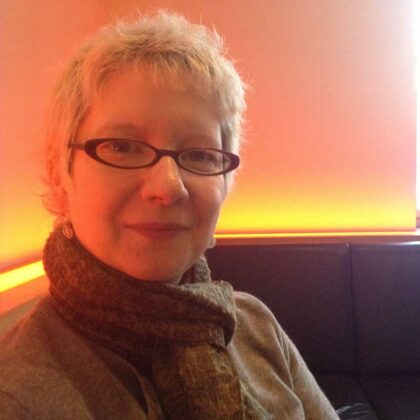 Susanna Bolle is a curator and concert organizer based in Boston, Massachusetts. She is the director of Non-Event, a group devoted to the presentation of experimental music and sound performance in non-traditional spaces. http://www.nonevent.org
Bios
Bio

---

Annie Aries

Composer & Musician

In the world of modular synthesizers and patch cords, Annie explores, performs and composes music and opens up sonic spaces between electronica and experimental sounds. In her works, she creates minimalistic sound textures and recurring rhythmic patterns that organically interweave, distance and disappear. With her bands Aries Zaes, Volca Massaker Orchester and Berg & Berg she regularly tours in Europe.

Bio

---

Brian House

Artist

Brian House (b. 1979 in Denver, US) is an artist who investigates the politics of time in human and nonhuman systems. Incorporating sound, computation, and multidisciplinary research, his practice has traversed subjects from geolocation infrastructure to urban rats. Currently, House is Assistant Professor of Art and Studio Head of Digital Media at Lewis & Clark College in Portland, Oregon. He holds a PhD in Computer Music from Brown University. brianhouse.net

Bio

---

Marcel Zaes

Artist & Researcher

Marcel investigates mechanical time with an interdisciplinary framework and is currently pursuing his Ph.D. in Music & Multimedia Composition at Brown University. His creative practice consists of assemblages of self-made software code that act as mechanical timekeepers and human performers who they play "against," thereby creating an affective potential to re-think the gap between what is conceived of as "human" versus "mechanical" temporality.
Presented with the support of Brown Arts Initiative, Brown University, Lewis & Clark College, the Master of Contemporary Arts in Practice Program at Bern University of the Arts, and the Design and Fine Arts MediaLab at Bern University of the Arts. Thanks to StudioSounds AG Bern and Florian Kaufmann.
Metric Displacement Opening Event

Artists Annie Aries, Brian House, and Marcel Zaes unveil their sound installation Metric Displacement as part of the Beyond 2020: A (Post-) Pandemic Practice series.