Join Us
Exploring the intersection between the future of work and technology with special guest Mr Guy Parmelin.
On the occasion of the presence in the Bay Area of the Swiss Minister of Economy and Education, Mr Guy Parmelin, we are delighted to invite you to an interactive evening event exploring the intersection between the future of work and technology, and what it means for the economy and society at large.
What if our work and social interactions happen increasingly in virtual environments? What if all companies shifted to "remote first" policies? What if countries leverage the pandemic to reimagine futures in which the planet and society thrive?
During this event, we will explore new innovative ideas that are coming out of the Bay Area and Switzerland after two years of a global pandemic, highlight current trends, and connect the dots on how they could inspire us to think and act differently going forward.
Event Details
This event is taking place in person and all guests must be vaccinated and will be required to show proof of their first series of vaccination to gain entry. Please make sure to wear a mask to protect yourself and others.
Program
6:00pm – Doors Open
6:15pm – Welcome Remarks from Federal Councillor Guy Parmelin
6:30pm – Keynote
6:50pm – Panel discussion
7:30pm – Networking
Event start time
USA

8:00PM

Boston and New York

9:00PM

Brazil

10:00PM

China

9:00AM

India

6:30AM

Switzerland

3:00AM

Boston

9:00PM

San Francisco

6:00PM
Special Guest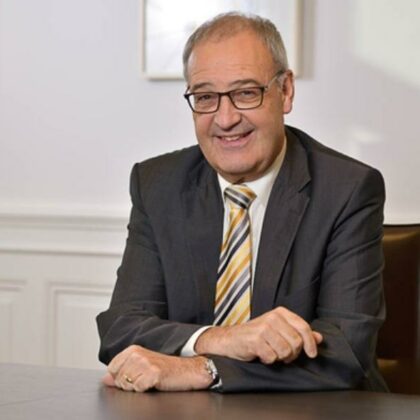 Guy Parmelin, Federal Councillor
Guy Parmelin is the Head of the Federal Department of Economic Affairs, Education and Research (EAER) and was elected to the Federal Council in December 2015.
Bios
Bio

---

Raphael Gielgen

Trendscout "FUTURE OF WORK" Vitra

Raphael Gielgen – Even some of his work colleagues think he's crazy. His irrepressible curiosity, the restless quest for explanations, and his delight at upending everything can occasionally make him an uncomfortable companion. When he appears at the office after returning from a long trip, he recounts things that sound more like a virtual utopia than a reality that has been experienced.

Before the pandemic, he visited over one hundred companies, universities and startup in a single year; the world is his workplace, the future his area of research. In his work he explains Vitra's approach to improving the quality of offices and public spaces through the power of design by serving the varied Vitra team with the results of his observations and cognitions by trend clusters, market analysis and business cases. He documents the insights and experiences on a panorama, a map of the trends and patterns of a new world. Raphael Gielgen combines and plays with his roles as teacher, ambassador and salesman.

Raphael lives privately on a small farm close to the Bavarian forest. An idyllic place surrounded by nature. Here he lives tied to the cycles of nature and he loves to think beyond the day in this place

Bio

---

Johannes Moenius

Professor, William R. and S. Sue Johnson Endowed Chair of Spatial Economic Analysis and Regional Planning School of Business & Society, University of Redlands

Johannes Moenius teaches global business at the University of Redlands. He is the founding director of the Institute for Spatial Economic Analysis (ISEA) and holds the William R. and S. Sue Johnson Endowed Chair of Spatial Economic Analysis and Regional Planning. Previously, he taught at the Kellogg School of Management and was a visiting scholar at Tokyo University. His research appeared, amongst others, in The Review of Economics and Statistics, Japan and the World Economy, and the International Journal of Industrial Organization.

His recent work on automation and the workforce has been covered by the Atlantic, PBS Newshour, NPR, FastCompany, Business Insider, the Washington Post and many other news media worldwide. He has presented his work in more than 200 talks at universities, conferences, and government institutions.

Bio

---

Julie Owono

Executive Director Internet Sans Frontières (Internet Without Borders). Executive Director Content Policy & Society Lab at Stanford. Inaugural member Facebook Oversight Board.

Julie Owono is the Executive Director of the Content Policy & Society Lab (CPSL) and a fellow of the Program on Democracy and the Internet (PDI) at Stanford University. She is also the Executive Director of digital rights organization Internet Sans Frontières, one of the inaugural members of the Facebook Oversight Board, and an affiliate at the Berkman Klein Center at Harvard University. She holds a Master's degree in International Law from la Sorbonne University in Paris, and practiced as a lawyer at the Paris Bar.

With a fluency in five languages, a childhood spent in various countries, and an educational background at the Lyçée Français Alexandre Dumas in Moscow, Julie has a unique perspective to understand the challenges and opportunities of a global Internet. This background has shaped her belief that global and multi stakeholder collaborations can be instrumental in the emergence of rights-based content policies and regulations.

Julie is a member of the Global Partnership on AI (GPAI) created by France and Canada, as well as a member of the World Economic Forum's Global Future Council on AI for Humanity, and of the WEF Council on the Connected World. She was also a member of UNESCO's Ad Hoc Expert Group (AHEG), which drafted the first international text on Recommendation on the Ethics of Artificial Intelligence. Juloie is a Member of the World Benchmarking Alliance's Expert Committee on Digital Inclusion.

Bio

---

Rachel Poonsiriwong

Product Designer at Scale AI, Independent Art Curator, Global Shaper at World Economic Forum

Rachel Poonsiriwong is a product designer at Scale AI and an independent art curator. Her creative practice traverses technology and culture to negotiate new ways of understanding our world. Rachel leads design at Nucleus, Scale AI's advanced suite of data curation and model debugging tools for machine learning engineers. She was previously at Microsoft Teams designing anti-harassment for online learning, and at Autodesk and Dell crafting delightful consumer experiences.

As a champion of inclusivity and ethical technology, she has researched social isolation with the Center for Humane Technology and is on the Executive board of homelessness non-profit ShelterTech. For her creative work, she has been honored with competitive scholarships with Rosenfeld Media, the DesignSingapore Council, and the California College of the Arts where she graduated with High Distinction.

Rachel has curated art exhibitions internationally, and is currently working with ritualistic practices in her upcoming video art show at the Rochester Contemporary Art Center (New York). She recently curated a group show at Root Division (San Francisco) featuring interdisciplinary artwork by 17 artists reflecting on familial trauma in relation to diasporic cultures and political conflict. Previously, Rachel developed art education programs at the San Francisco Arts Commission Galleries, and designed an environmental justice exhibition with the Asian American Women Artists Association. She has been recognized for her impact as a guest speaker at institutions like the Monterey Museum of Art, and as a Global Shaper with the World Economic Forum.