– By Sofia Costa, Communications Manager
Swissnex joined the Swiss Business Hub, the Embassy of Switzerland in Brazil, and the Rio de Janeiro and São Paulo consulates to make the best experience possible for the Scientific and Economic Delegation. It was an intense week after months of preparation, and Team Switzerland is thrilled to have had the opportunity of showcasing Brazilian institutions and collaborate in creating great connections.
It all started months ago, with a lot of planning and screening of the best opportunities and matchable challenges to provoke insights and international partnerships while showcasing the power of Brazilian science, research, and innovation ecosystems visiting São Paulo, Brasília, and Rio de Janeiro. 
São Paulo
On the first day in São Paulo, two startups (Nutrix and GRZ Technologies) and two larger companies (Novartis and Zurich Airports) took the stage at the event Exchange with Swiss Private Sector in Brazil to present their elevator pitches, setting the tone for an inspiring discussion. Our State Secretary, Martina Hirayama, joined Switzerland Global Enterprise Chairwoman, Ruth Metzler, for a panel discussion on the business perspectives of Swiss Companies in Brazil.
In a highly productive and forward-thinking meeting, our State Secretary actively engaged with representatives from FAPESP and the Swiss National Science Foundation, together with representatives from different universities of São Paulo (UNESP, USP, and Unicamp). The meeting had a common goal of advancing research frontiers and pushing the boundaries of knowledge.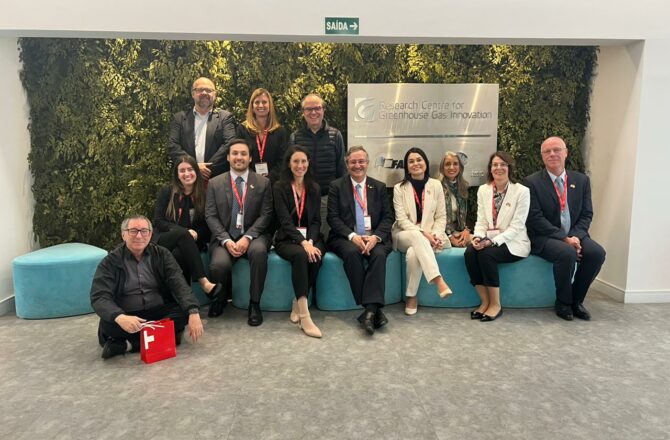 A MILESTONE
We achieved a significant milestone at the Industry Federation of the State of São Paulo (Fiesp). Our CEO, Malin Borg, and Fiesp's president, Josué Gomes, signed a cooperation agreement between Senai São Paulo and Swissnex in Brazil. This strategic partnership aims to develop International Student Internships, Open Innovation, and Industrial Entrepreneurship programs. The joint efforts will unlock the potential of future talents and foster a culture of innovation.
A special visit
We were honored to welcome our State Secretary, Martina Hirayama, from the State Secretariat of Education, Research, and Innovation to our vibrant São Paulo office, providing her with a firsthand experience of our dynamic work environment. It was an opportunity for our team to showcase our dedication to fostering innovation, knowledge exchange, and impactful partnerships.
We exchanged ideas and perspectives with our State Secretary during this engaging session. We explored various topics, including potential collaborations and challenges and opportunities we face daily.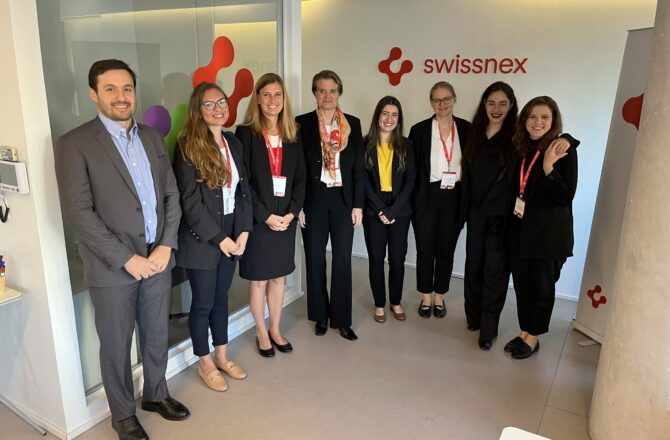 On the next day in São Paulo, we started with a visit to 'Cafezal', the biggest coffee urban plantation in the world. 'Cafezal' has been operated since 1950 by the Biological Institute, of the University of São Paulo, with the Secretariat of Agriculture of the State of São Paulo. Nestlé, the largest Swiss company in Brazil, is working with Instituto Biologico to find sustainable and innovative solutions to develop a more responsible coffee culture. It was a special morning for the whole delegation.
Innovation Challenge in Brasília
The Delegation attended the 1st Swiss Sustainability and Innovation Award Ceremony at the Swiss Embassy in Brasília at the end of the day. The Innovation Challenge opened the stage with Startup finalists' pitches with the Innovation Jury and live voting from the audience.
During the ceremony, we engaged in insightful discussions with companies and start-ups, fostering collaboration and exchanging ideas about Swiss and Brazilian projects. The energy and enthusiasm at the event were inspiring, reinforcing our shared mission for a greener future and commitment to sustainability and innovation.
We were honored to have State Secretary Martina Hirayama (State Secretariat for Education, Research, and Innovation) as part of the Innovation Jury, along with industry experts Marina Cassino from The Bakery Brasil, Mayra Castro from InvestAmazônia, and Carolina Falcoski from Nestlé. Their collective expertise and dedication ensured a fair evaluation of the exceptional pitches presented by the start-ups.
The Swiss Sustainability and Innovation Award winners were Zuzana Sedivà, representing Groam Tech and Luiz Otávio, representing Yattó!  We congratulate all finalists, including upgrain (Vincent Vida), LiYF Ltd (Hangama Wanner), SuperOpa (Luis Borba), and Sante Science (Marcela Camargo), for their exceptional achievements! Their dedication, creativity, and impact on sustainability inspire us all.
RIO DE JANEIRO
Fast forward to Rio de Janeiro on the last day of the Mission, the Scientific Delegation visited Fiocruz, an institution of excellence in public health and the pharmaceutical sector, which uses Swiss technology. It was an excellent opportunity to discuss concrete opportunities for collaboration where Swiss innovation and research can contribute and make a difference. After the meeting, the group could visit Bio-Manguinhos/Fiocruz and the hospital built for COVID and infectious diseases.
To close the week, Swissnex in Brazil with the Embassy of Switzerland and Firjan held the "Rio de Janeiro meets Switzerland: infrastructure opportunities and the Triple Helix of Academia, Industry, and Government."
It was an exciting night with presentations from the Federal Councillor Guy Parmelin, Firjan's Vice President, Luiz Cesio Caetano, the Ambassador of Switzerland in Brazil, Pietro Lazzeri, Firjan's Manager of Infrastructure, Isaque Ouverney, and an inspiring panel discussion.
The panel, moderated by our CEO Malin Borg, with the panelists Julia Zardo, Gustavo Silva de Miranda, Saurabh Tembhurne, and Vanessa Boanada Fuchs, discussed similarities and differences between Swiss and Brazilian approaches to the role of academia, government, and industry in fostering innovation in different fields, such as cleantech and infrastructure.
We closed the panel with a quote from Vanessa Boanada Fuchs, Director of the Leading House for the Latin American Region, explaining how to foster businesses that are allies of science.