We have the pleasure of welcoming Dr. Anna Wiedemann from ZHAW to spend a few weeks between our offices in Rio de Janeiro and São Paulo. Anna is in Brazil for a Mobility Exchange Program, intending to extend the professional network and strengthen international cooperation by creating new partnerships in Brazil.
The event "Talks @ Swissnex with Dr. Anna Wiedemann" presented the ideal start of this exciting research journey. Researchers, including professors, students, and industry representatives, joined the discussion, allowing Dr. Anna Wiedemann to connect with the Brazilian ecosystem.
Read the interview below to learn more about her work and expectations in Brazil.
Can you explain more about your main research focus in information systems?
My research focuses on DevOps (Development and Operations) teams, general project management topics, and qualitative research methods. Established IT departments are under pressure to keep up with the latest trends and technologies. I am interested in how traditional IT departments can efficiently organize themselves in the age of digitalization to quickly deliver new digital innovations and products to their customers. It is undisputed that modern technologies contribute to the value of IT in companies. At the same time, companies have to decide quickly which trends and technologies they will use to stay competitive. Hence, organizational, group, and individual levels of companies need implications on how to organize their IT function.
Why did you choose Brazil as a location for your field research?
I have read that Brazil is building up a technology and innovation ecosystem which is still rising. This fact provides many options for research and development. Especially the cities of Rio de Janeiro and São Paulo are global centers for technology and innovation. In my research area, I have had few opportunities to connect with Brazil so far. Thanks to Swissnex, this is now possible. I am very interested in multinational case studies, and I think that a case study with Brazilian industrial partners and academic persons as co-authors could make an important contribution to my research and other countries' academia, while companies could benefit from the learnings.
What results do you expect to differ from those you got in other parts of the world, and why?
In my research findings to date, it is clear that each country has different governance and leadership styles. Research and practice are still searching for ways to align business and IT. In my research, I try to understand how cross-functional teams can be formed to drive software innovation. Hence, I expect there will be major differences between team formation and team-building measures. In particular, the governance mechanisms in incumbent organizations and the culture of collaboration between Brazilian stakeholders might be different from those in other parts of the world.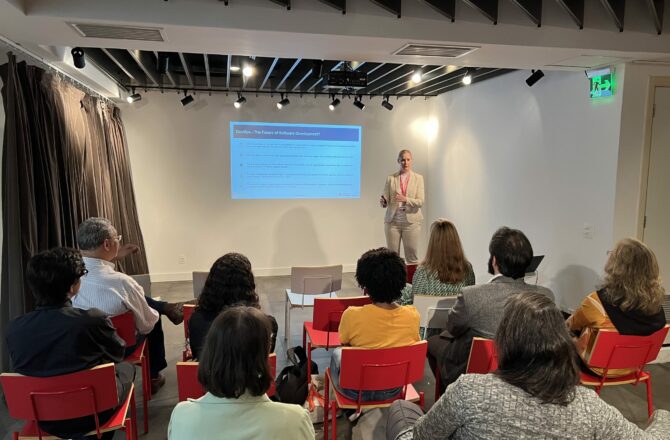 In which way does the local culture influence DevOps and project management in general?
Culture is one of the key principles of DevOps and describes that there is more focus on the human being. This can be reflected, for example, in mutual trust between the DevOps stakeholders, the willingness to learn and continuously improve individuals' knowledge, and the openness to changes and experiments. Therefore, it is interesting to understand how different countries and cultures deal with mistakes made by individuals. Furthermore, it is a big challenge to set up a DevOps team in an established organization. From my experience, the local culture has a big impact on communication, knowledge transfer, and trust. These aspects are essential in the successful management of DevOps. Furthermore, it would be exciting to find out what the triggers are for companies to choose traditional project management or DevOps for software development.
Who are you looking to partner with or meet while in Brazil? What's the best way to connect with you?
I am very interested in collaborations with universities' information systems (or similar) departments and industry partners implementing DevOps or cross-functional product teams. From an academic perspective, I expect there might be a lot of fascinating topics for software innovation, and I would be grateful for an exchange about current research projects. Furthermore, I would be pleased to conduct research and publish papers with my new contacts. From an industrial perspective, I am looking for partners interested in participating in my global DevOps study and future endeavors. Thank you to Swissnex for enabling this work.
Contact Dr. Anna Wiedemann