– By Larissa Hess, Finance and Project Manager at Swissnex in Brazil
How would you like to follow a high-quality vocational training program, alternating theory and practice, geared to the job market's needs while having the option of studying at an applied science university or even a federal institute of technology?
This is the path chosen by two-thirds of young people in Switzerland! 
Swiss vocational training is offered at both secondary II and tertiary levels. It enables students to acquire the specific professional skills needed to perform technical and managerial functions in 245 existing professions. Through a program tailored to individual abilities and interests, Swiss apprentices develop all the necessary operational skills and can practice their profession independently. 
But that's not all!  This program, supported by the Swiss Confederation and the Cantons, is continually being developed. To adapt to the new challenges of the job market, it also calls for new approaches and innovation. And that's precisely where Swissnex in Brazil comes in. In partnership with the Departments of Education and Training of the Cantons of Vaud and Zurich, Swissnex is launching "NextStep", a global internship program for Swiss vocational baccalaureate graduates, in 2024.
The main goal of "NextStep" in Brazil is to provide graduates with international work experience and a cultural exchange with the Brazilian business and industrial environment. It will be an opportunity for VET graduates to spend a period in São Paulo and work in Brazilian or Swiss companies while dedicating themselves to a specific project linked to a company's internal innovation challenge.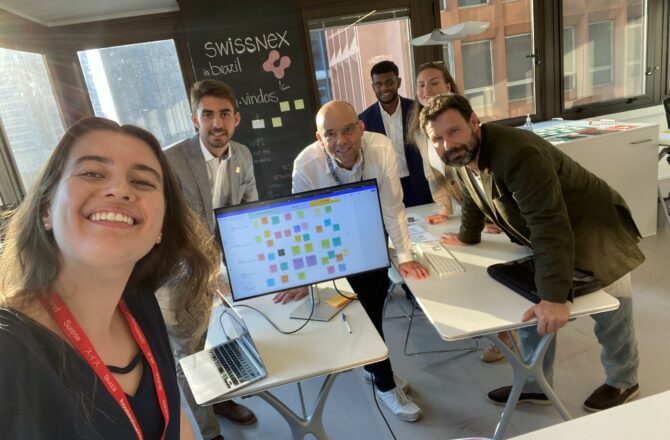 From 28 August to 1 September, the Swissnex team in Sao Paulo had the pleasure of welcoming a Swiss delegation of a cantonal representative, a principal of a VET school, and two apprentices. During that intense and productive week, the group and the Swissnex team met with 6 educational institutions and 10 companies operating in healthcare, food, mechatronics, engineering, and the chemical industry. These sectors require qualified professionals, precisely matching the graduates the Swiss professional program offers.
These meetings with representatives of SMEs and multinationals, including department directors, human resources, public relations, international mobility, and innovation managers, gave rise to a unanimous opinion: this project is innovative, and Brazilian companies want to open up to new perspectives!
From their side, graduates are also willing to take action and help internationalize the Swiss VET program :
"It was a superb experience, and the fact that I was able to meet people with a great deal of expertise in international relations gave me a better insight into what goes on behind the scenes in these professions. Brazilian companies are very open-minded, which allows them to evolve on a daily basis. All in all, it was a truly enriching experience from a cultural, professional, and, above all, personal point of view." – Guilherme Estevam Vilela.
"For me, this exploratory trip to Brazil as part of the NextStep project was a great success. From a professional point of view, I was able to improve the way I present products, and I had the opportunity to make professional contacts on an international level, which will certainly help me in the future! What's more, these companies' visits have shown me that the way different countries operate is not necessarily the same and that changing workplaces on an international scale really is an added value not to be overlooked in one's life!" – Banusan Balakrishnan.
The next stage will be the selection of Swiss candidates, who will be profiled according to the demands of companies in Brazil. From July 2024 onwards, the first graduates will join NextStep in Brazil, initiating a new approach to the Swiss professional system and a new chapter in their global professional and cultural journey. 
Stay tuned to follow them on this incredible journey!