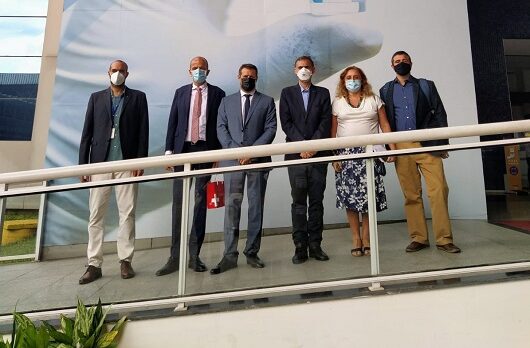 In office for six months, he met with members of Fiocruz at the Center for International Relations in Health (Cris/Fiocruz), where he proposed to expand technical and scientific cooperation. He also visited the Institute of Technology in Immunobiologicals (Bio-Manguinhos/Fiocruz) and found out that some machines used in the production of the Covid-19 vaccine came from his country.
The ambassador arrived accompanied by the Consul General in Rio de Janeiro, Bernhard Furger, and the manager of Academic Relations of Swissnex, a network focused on promoting science and innovation, Pedro Capra. At Cris they were welcomed by the vice-presidents of Education, Information and Communication, Cristiani Machado, and of Research and Biological Collections, Rodrigo Correa, and by the directors of the Instituto Oswaldo Cruz (IOC), Tânia Araújo-Jorge, and of the Instituto de Ciência e Tecnologia em Biomodelos (ICTB), Christoph Milewski, as well as by Cris' deputy coordinator, Pedro Burger. The meeting was also attended by the IOC's Institutional Cooperation coordinator, Anna Cristina Carvalho, and the Cris advisor, Ilka Villardo.
This is my second time at Fiocruz. I first arrived in 1995, as a master's student, researching about Swiss scientists in the Amazon. That's how I discovered Oswaldo Cruz. I arrived at the Castle as a tourist. Now I have a different role"
said Ambassador Lazzeri.
Switzerland on the Fiocruz map
The visit, still in his first months in office, as well as the entourage organized to receive him, is justified. Brazil is Brazil's main partner in science, technology and innovation in Latin America, and Switzerland is one of the main countries in cooperation with Fiocruz. A large part of the commercial exchange between the two countries takes place in the area of pharmaceuticals and drugs.
On the international cooperation map of Fiocruz there are Memoranda of Understanding with the Ecole Polytechnique Federale de Lausanne (EPFL), with Swissnex, and with the Zero Mothers Die initiative (in maternal, neonatal, and child health). In addition, there are other partnerships and research, many of them going through World Health Organization (WHO) cooperation networks and universities.
"Our students are very interested in doing short-term internships in foreign institutions and also our researchers to establish partnerships and cooperation with excellent institutions. We are interested in strengthening relations with Switzerland, with academic institutions, and also with the business production area related to our field of expertise", said Cristiani Machado.
Rodrigo Correa, in turn, highlighted the need to advance in scientific entrepreneurship programs, highlighting the role of CSEM, a Swiss research and development center in the areas of precision manufacturing, digitalization, and renewable energy, which follows a non-profit public-private partnership model. "CSEM does a beautiful job in technology development. It is an area that has great potential: to undertake together and learn from CSEM what it is to undertake in science," said Rodrigo, who is a member of the CSEM-Brazil scientific council.
Tânia Araújo-Jorge, whose institute has partnerships with Swiss institutions, also showed interest in expanding post-graduation cotutalties. Christoph Milewski, on the other hand, suggested increasing collaboration, especially in the area of Single Health and in the creation of technological tools for health surveillance and monitoring.
For 2022, Lazzeri told that the embassy is preparing the visit of the Secretary of State Livia Leu, and would like to include Fiocruz in the itinerary, in a visit composed also by directors of universities and companies. "We talk here about a balance between scientific entrepreneurship and research. For us it is something natural that economy and education go together," he said.
Swissnex, meanwhile, has been talking to the Vice-Presidency of Teaching, Research and Innovation about the possibility of a Fiocruz delegation traveling to Switzerland.
"We would take Fiocruz as an extremely innovative element and a powerhouse in the area of health and technology, presenting it to a greater number of institutions and people to build new bridges," commented Capra.
Presence at Bio-Manguinhos
The visit also included a visit to the Henrique Penna Center (CHP), at the Vaccine Technology Complex (CTV), where the Swiss delegation was welcomed by the Deputy Director of Production of the Institute of Technology in Immunobiologicals (Bio-Manguinhos), Luiz Alberto Lima, and the Chief of Staff, Daniel Godoy. On the way, they were able to observe machines that came from their country.
"They participate directly or indirectly in our production," Lima noted. "In Covid vaccine production we have isolators from Skam, a new line that is being installed and will start operating next year. In addition, our team was in Switzerland for three weeks to test a new packaging line that will be installed next year," he cited as examples. Dividella's equipment will be installed in the Industrial Complex of Biotechnology in Health (Cibs/Fiocruz), which is being built in Santa Cruz.
It seems important to me the task of seeking partnerships with this spirit of balance between research and business,"
said the ambassador. "Cooperation exists, but we can do more. Scientific and health diplomacy for the Swiss is genetic."