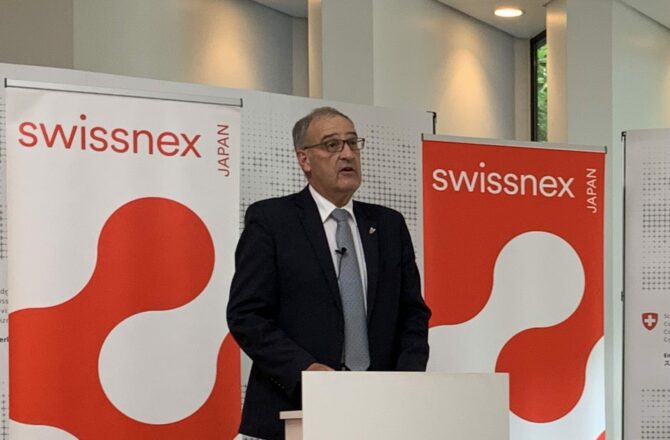 The opening of a new Consulate in Osaka marks a further expansion of Swissnex, the Swiss network for education, research and innovation. The new key location in the dynamic Kansai region, where Switzerland will take part in the OSAKA 2025 World Exhibition, is scheduled to be up and running in the first half of 2022.
During the announcement H.E. Guy Parmelin, President of the Confederation of Switzerland said that, "More than ever our future depends on our ability to inspire each other beyond traditional borders, and collectively forge new paths ahead. Swissnex as a network will ensure that Japan and Switzerland continue to occupy leading positions in many areas on a global level. Swissnex locations are established in the most innovative hubs of the world. With that, it's no coincidence that the new Consulate and Swissnex will open in Osaka which has all the ingredients for a powerful innovation ecosystem and an atmosphere of open-mindedness. This will inspire new ideas by fostering knowledge exchanges between Japan and Switzerland. I hope this is the beginning of new partnerships, exchanges and discussions between our countries."
"Today, we open a new chapter in our book of friendship between Switzerland and Japan. Strengthening our ties in the field of science including education, research and innovation will further broaden our relations, culture economy, commerce and most of all the friendship between our people. With the President's announcement today, and with your help, I look forward to many more exciting, pioneering, creative and successful years ahead", added H.E Dr. Andreas Baum, Ambassador of Switzerland to Japan. Dr. Felix Moesner, incoming Swiss Consul and CEO of Swissnex in Japan noted that "for decades Japan has been an excellent partner for bilateral research cooperation which led to the Swiss-Japanese Agreement for Cooperation on Science and Technology, signed in 2007. This cooperation is now further strengthened with the opening of a new Consulate of Switzerland in Osaka and a new Swissnex key location – in the dynamic region of the Kansai, one of the two biggest economic regions of Japan and a cradle for innovation. In addition to building new bridges, we aim to create a fertile ground for inspiring people and institutions to help prepare for our challenges of tomorrow."