Swiss-Osaka AI Innovation Exchange: Enhancing Product Development with AI
Upcoming
No result for the selected filters
Swissnex in Japan is proud to announce our upcoming event, "Swiss-Osaka AI Innovation Exchange: Enhancing Product Development with AI ", on 26 June 2023. Join us as we delve into a meaningful discussion about the application of generative AI to product developments.

We are delighted to host Zurich University of Applied Sciences sabbatical, Mr. Umut Demiriz, who will share his insights and research result during his stay. Alongside them, we have the privilege of welcoming esteemed Japanese experts Prof. Koichi Kise and Prof. Shoya Ishimaru from Osaka Metropolitan University. These experts will share their insight into both the current application of generative AI agents and future possibilities through cutting-edge research.
Event Program
6:00pm – Welcome and opening remarks
6:10pm – Presentations by speakers
7:00pm – Panel discussion and Q&A session
8:00pm – End of the event
Event start time
Boston and New York

11:00AM

Brazil

12:00PM

China

11:00PM

India

8:30PM

Japan

12:00AM

San Francisco

8:00AM

Switzerland

5:00PM
Presentation Topics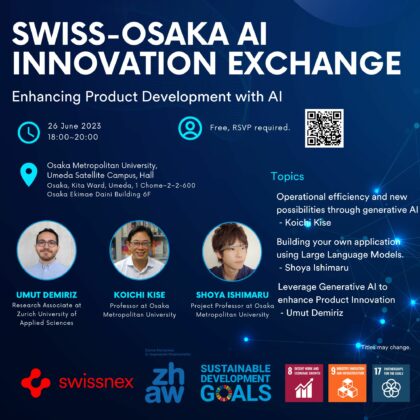 Operational efficiency and new possibilities through generative AI – By Prof. Koichi Kise
Building your own application using Large Language Models – By Dr. Shoya Ishimaru
Leverage Generative AI to enhance Product Innovation – By Mr. Umut Demiriz
Speakers
Bio

---

Koichi Kise

Professor at Osaka Metropolitan University

His research topic is perceptual information processing, and he has been promoting collaboration with the German Research Centre for Artificial Intelligence for many years. The DFKI Japan Lab, established as a result, is the only German research institute for artificial intelligence in Japan.

Bio

---

Shoya Ishimaru

Project Professor at Osaka Metropolitan University and Co-Founder CRO at Alphaben

He received the title of MITOU Super Creator from the Ministry of Economy, Trade, and Industry in Japan.

Bio

---

Umut Demiriz

Research Associate at Zurich University of Applied Sciences (ZHAW)

He is currently conducting a research project aimed at exploring the potential of AI agents

to facilitate and enhance the idea generation, evaluation, and refinement stages in product innovation.