About us

Swissnex

The Swiss global network for education, research and innovation

Discover

Swissnex

The Swiss global network for education, research and innovation

Our work

Swissnex

The Swiss global network for education, research and innovation

Our impact

Swissnex

The Swiss global network for education, research and innovation

Swissnex

The Swiss global network for education, research and innovation
Virtual Demo Day
The best of Swiss fintech will be pitching their technology to potential partners and investors! Take the chance to experience 10 Swiss top-notch startups from the field of Fintech.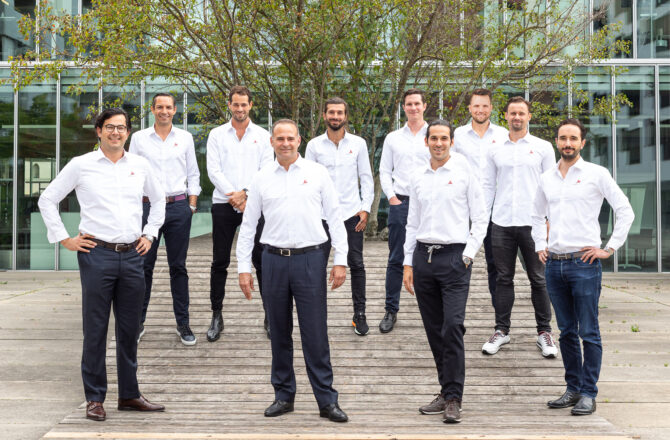 The best of Swiss fintech is setting up virtual booths in Hong Kong this November!
For the second edition of Venture Leader Fintech in Hong Kong, Swissnex in China is proud to be supporting a high-quality delegation of top Swiss fintech startups for a pitching and fundraising roadshow this November, including participation at Hong Kong FinTech Week 2020, Asia's global fintech conference and expo with 25'000+ attendees from over 70 countries. Venture Leaders Fintech 2020, co-organized by Venturelab and Swissnex in China, will take place from November 2nd to 6th with business workshops, startup exhibition and investor meetings all delivered in a virtual format. The exhibition offers the startups unparalleled exposure and insight into the booming local fintech ecosystem of Hong Kong as part of the Greater Bay Area (GBA), along with learning about business opportunities, how corporate affairs work, pitching to investors and getting insights from experts.
Five startups presentation | 企业路演
Five startups presentation | 企业路演
Startup Information | 企业介绍
Curio Capital AG (CurioInvest) | Rey Fernando Verboonen | curioinvest.com | Zug
Investors on average hold 10% of their portfolio in collectables such as fine art and rare cars. This asset class as an alternative investment has outperformed S&P500 among yet it remains extraordinarily difficult to invest in it. CurioInvest provides a gateway to purchase fully assessed and exclusively secured ultra-rare cars – or invest with others in profit-sharing digital assets that trade like you would do with stocks.
Cybera Global AG | Nicola Staub | cybera.io | Zurich
cybera. global provides a FinTech platform to prevent financially motivated cybercrime for Financial Institutions and Governments. Traditional approaches to answer such crimes cannot keep up. The team behind cybera. global combines unique industry knowledge and professional insights with the latest technology to improve the status quo and reduce online fraud and cybercrime-related losses globally.
eCollect AG | Marc Schillinger | ecollect.ch | Baar
eCollect solves the problems of classical receivables management by combining high-end technology with professional expertise and operational experience. We provide easy to integrate, web-based solutions + the full collection service for businesses and institutions.
flov technologies AG | Anton Golub | flovtec.com | Zug
flovtec is a Swiss quantitative investment firm with the purpose to unlock digital assets by providing liquidity. Digital exchanges and assets are illiquid. We solve this problem by offering dedicated liquidity to exchanges and token issuers. Our liquidity algorithms serve liquid, but also newer, more illiquid digital assets. We are fully compliant with the Swiss Regulatory Framework and keep the capital safe by having it off-balance-sheet.
Sibex AG | Daniel Haudenschild | sibex.io | Zug
SIBEX is the first system software to make trading operations between blockchains accessible to non-technical users. This creates unprecedented arbitrage opportunities and grants all SIBEX users to take advantage of inevitable price differences around the world and with centralized trading platforms. The SIBEX technology has been proven and passed a security audit, you may find more information in the website footer.
SwissBorg | Cyrus Fazel | swissborg.com | Lausanne
Powered by blockchain technology, machine learning, and our community's swarm intelligence, SwissBorg is a team of fintech experts and engineers creating a holistic crypto wealth management ecosystem. Using the latest technology, SwissBorg is building products that are fast, stable, and offer institutional-grade security. SwissBorg's ultimate aim is to make wealth management accessible to everyone.
Teylor AG | Patrick Stäuble | teylor.io | Zurich
Teylor has developed the Teylor lending platform and the Teylor Loan, one of the fastest and most comfortable business loans in Germany. Teylor's solutions help German small and medium-sized businesses to get access to financing within just 10 minutes. Besides offering the Teylor Loan to borrowers directly, Teylor also offers banks and other lenders the Teylor Lending Cloud that allows banks to digitize and automate their entire credit and risk processes.
Vima Link SA | Raphaël Héraïef | vima.swiss | Martigny
Based on 10 years of research at the Idiap, Vima Behavioural AI can improve credit score systems from a short 1-3 minutes video presentation of borrower applicants. Our AI platform is capable of replicating expert assessments in order to understand traits such as conscientiousness, which are correlated to financial risk taking, capabilities to plan and repay. Our system is transparent, minimises bias and improves risk-taking balance.
Wecan Tokenize | Mathieu Saint-Cyr | wecantokenize.com | Geneva
Wecan tokenize is a digital, secured, and compliant all-in-one platform to transform securities into tokens. Setup by 3 strategic partners, the joint forces is positioning Wecan tokenize as a leader to bridge the gap between traditional finance and the new complex world of digital assets.
Yova AG | Tillmann Lang | yova.ch | Zurich
Yova is the leading digital platform for investing with a sustainability impact. Yova customers invest directly into companies that help to solve global problems, e.g. by fighting climate change or by promoting human rights. All investments are professionally diversified portfolios that are designed for an attractive financial return.
About Venture Leaders
The Venture Leaders – the members of the Swiss National Startup Teams – have a clear-cut goal. They envision themselves as global players and want to take the first step to global expansion. Venturelab has been organizing international roadshows for the Swiss National Startup Team for 16 years. The ambitious entrepreneurs and their promising startups are introduced to leading investors and potential customers in technology hubs in Silicon Valley, Boston, New York, China, and Barcelona. Last year, Swiss fintech startups raised more than CHF 133 million, and the sector's leaders plan to keep growing and going global. These business development programs are specifically structured to help startups achieve this goal.
See the full Venture Leaders alumni list here.
Partners
The Venture Leaders Fintech roadshow 2020 is organized by Venturelab and Swissnex in China and supported by EPF Lausanne, ETH Zurich, IMMOMIG, PostFinance, TX Group, Walder Wyss, Presence Switzerland, and the Canton of Zurich.