About us

Swissnex

The Swiss global network for education, research and innovation

Discover

Swissnex

The Swiss global network for education, research and innovation

Our work

Swissnex

The Swiss global network for education, research and innovation

Our impact

Swissnex

The Swiss global network for education, research and innovation

Swissnex

The Swiss global network for education, research and innovation
Shades of Green - Opportunities and limitations of the "Green Transition"
With the rising alerts of the environmental threats and calls for joint actions around the globe, more efforts have been made to build a more eco-friendly environment of the future. Among other initiatives to tackle climate change related issues, such as reduction of CO2 emissions and landfill waste, the "Green Transition" aims to build resilient environment and economies and promotes sustaining and advancing economic, environmental and social well-being. However, the efficiency and effectiveness of the actions are questionable. Are they suitable for sustainable living in the long-term? Controversies over policies and campaigns of "Green Transition" actions are still ongoing.
In particular, one critical area for cooperation between government and industry is cleaning up energy infrastructures. Challenges also include a sustainable and business oriented facilitating toolbox named green finance. However, subsidies cannot last forever. Additionally, countries tend to agree on the broader goal, but differences remain. For instance, in order to reach the ambitious goals of the Paris Agreement, the idea of 'clean coal', common in Asia, won't be sufficient in the European perspective. The old continent points to combine it with other approaches – such as Negative Emissions Technologies. However, this must first win some public opinion reticence in considering CO2 as a resource rather than as a dangerous waste only.
Public concern seems instead rather low towards one of the major landfill pollutant. Although some countries are near to a full recovery of concrete wastes, in many parts of the world this potential is overlooked and the concept of sustainable buildings often reconducted to energy efficiency and use of new innovative materials only. Higher attention must be paid to recycling for a more immediate waste reduction action.
In a multidisciplinary approach, experts from Switzerland and South Korea will discuss the unprecedented path that the "Green Transition" has taken as well as its opportunities and limitations.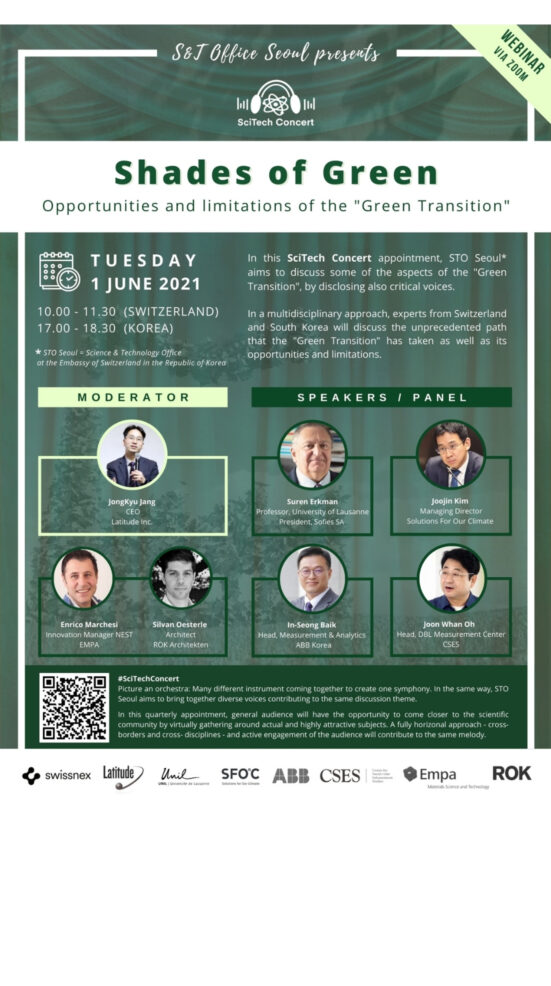 Meet the Speakers / Panel
Bio

---

Suren Erkman

Professor, University of Lausanne / President, Sofies SA

Suren Erkman has a background in Philosophy and Biology from the University of Geneva (Switzerland) and a PhD in Environmental Sciences from the University of Technology of Troyes (France). He has been also trained as a registered science and business journalist. He has been contributing to the emerging field of industrial ecology since the early 90s, as a consultant and entrepreneur. In 2005, he joined the University of Lausanne as an Associate Professor in Industrial Ecology. Suren Erkman is also Chairman of the Board of the consulting company Sofies (Solutions for Industrial Ecosystems), with more than 60 collaborators. Sofies advises companies, governments and international organizations on sustainability issues, with a focus on industrial ecology and circular economy.

Bio

---

Joojin Kim

Managing Director, Solutions For Our Climate

SFOC's managing director Joojin Kim is a legal expert with extensive experience in the energy and environmental fields. Before founding SFOC, he conducted numerous energy-related projects as a lawyer at Kim & Chang, Korea's largest law firm. He continues to lend his expertise on Korean climate change and energy policy, having served as commissioner of the Greenhouse Gas Statement Disclosure Review Committee established under the Ministry of Environment and the Working Group for the 3rd National Energy Framework Plan. Joojin majored in international relations at Seoul National University, where he also earned a master's degree at its Graduate School of Environmental Studies. He received his Environmental Law LL.M. from Georgetown University Law Center.

Bio

---

Enrico Marchesi

Innovation Manager NEST, EMPA

Enrico Marchesi, since 2016 has been the Innovation Manager for NEST (Next Evolution in Sustainable Building Technologies) in EMPA. Prior to joining EMPA, he had worked in ESPROS Photonics AG, ELGO Electronic GmbH and Schindler Elevators. He was research assistant and associate in several labs such as Engine Systems Laboratory, Institute of Textile Machinery, and Automatic Control Laboratory in ETH Zurich. He majored in Mechanical Engineering in ETH Zurich, and has obtained a master's degree in Transportation Technology & Policy from the University of California, Davis as well as received Master of Advanced Studies in Marketing from the University of Basel.

Bio

---

Silvan Oesterle

Architect, ROK Architekten

Silvan Oesterle is an architect and researcher with special expertise in the field of computational design and digital fabrication. In 2010 Silvan co-founded ROK, an architectural office in Zurich. ROK's work focuses on the development of integral design processes at the intersection of design computation, engineering and digital fabrication. After graduating from ETH Zurich in 2007, he joined the Faculty of Architecture at ETH and conducted research with Professors Gramazio & Kohler. In 2013 he was a guest lecturer at the Academy of Fine Arts in Stuttgart. Since 2014 he is a lecturer at the Accademia di architettura di Mendrisio. Silvan lectures regularly at schools and conferences such as the Architectural Association, CITA or Smart Geometry.

Bio

---

In-Seong Baik

Head Measurement & Analytics, ABB Korea

In-Seong Baik, since 2014 has been head of Measurement and Analytics Division at ABB Korea. Prior to joining ABB Korea, he had worked in Samsung SDS, Rockwell Automation and Hyundai Information Technology. He majored in Mechanical Engineering at the University of Ulsan, and has obtained a master's degree in Executive MBA from Sungkyunkwan University. ABB (ABBN: SIX Swiss Ex) is a leading global technology company that energizes the transformation of society and industry to achieve a more productive, sustainable future. By connecting software to its electrification, robotics, automation and motion portfolio, ABB pushes the boundaries of technology to drive performance to new levels. With a history of excellence stretching back more than 130 years, ABB's success is driven by about 105,000 talented employees in over 100 countries. www.abb.com

Bio

---

Joon Whan Oh

Head DBL Measurement Center, CSES

Joonwhan Oh, since 2019 has been the head of social value measurement in Center for Social-value Enhancement Studies (CSES). Prior to the current position, starting to joining SK Group in 1998, he had been in several positions in SK group. He led a project for developing the Double Bottom Line Accounting Guideline of SK Group, and was head of office for business culture innovation as well as head of global marketing. He was the director for business development in China in SK holdings. He has obtained a master's degree in economics from Seoul National University and received MBA from Ross Business School in University of Michigan U.S.A.
SciTech Concert 2

Shades of Green: Opportunities and limitations of the "Green Transition"