About us

Swissnex

The Swiss global network for education, research and innovation

Discover

Swissnex

The Swiss global network for education, research and innovation

Our work

Swissnex

The Swiss global network for education, research and innovation

Our impact

Swissnex

The Swiss global network for education, research and innovation

Swissnex

The Swiss global network for education, research and innovation
Our first of a new quarterly "SciTech Concert" is all about Gaming. Meet the experts from Switzerland and Korea and learn how gaming influences modern culture and society. Follow the links for further information & registration.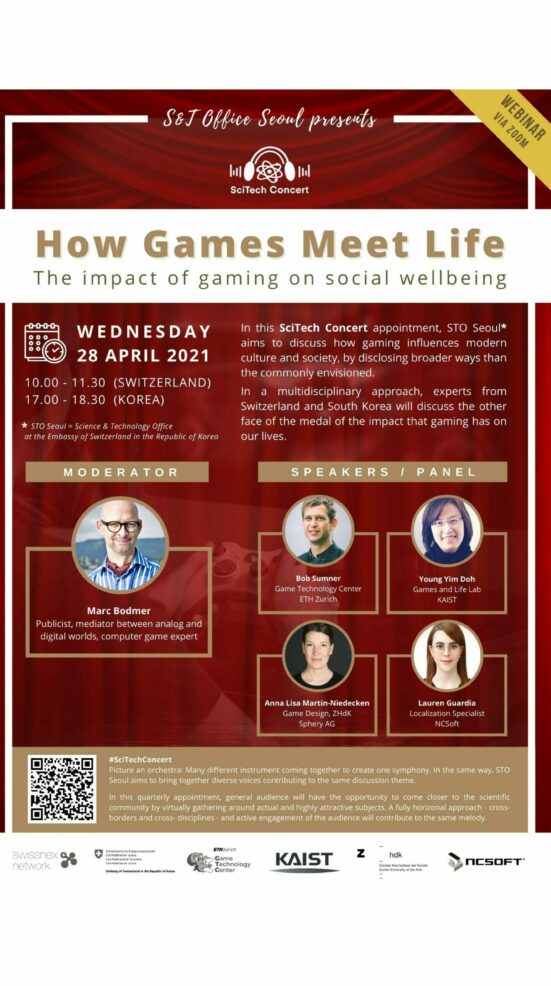 We are proud to present
Moderator

---

Marc Bodmer

Publicist, mediator between analog and digital worlds, computer game expert

Marc Bodmer was born 57 years ago into a culturally interested family that enjoyed music, books, films and comics. He has a master's degree in law, but preferred to work as a freelance journalist, and has been covering music, movies and video games for more than 25 years in Switzerland's leading publications and newspapers. He is frequently asked by Swiss national television and radio stations to share his expert opinion in the field of video games.

He teaches media literacy at universities, schools and other venues. Bodmer is the co-author of a teachers' guide to video games «Games – Spielen ist lernen» (2010), and teaching materials «Gaming und E-Sport» (2020). He also worked as an independent consultant on video games for the Swiss cultural foundation Pro Helvetia. Marc Bodmer is happily married and the proud father of a son (16).

Bio

---

Prof. Robert "Bob" Sumner

Game Technology Center, ETH Zurich

Prof. Robert Sumner is the Director of Research and Development at the Walt Disney Studios and an Adjunct Professor at ETH Zurich. Robert received a B.S. degree in computer science from the Georgia Institute of Technology and his M.S. and Ph.D. degrees from the Massachusetts Institute of Technology. He spent three years as a postdoctoral researcher at ETH Zurich before joining Disney.

At Disney, Prof. Sumner leads research in animation and games. His group strives to bypass technical barriers in animation and game production pipelines with new algorithms that expand the designer's creative toolbox in terms of depiction, movement, deformation, stylization, control, and efficiency.

At ETH, Prof. Sumner teaches a course called the Game Programming Laboratory in which students from ETH and the Zurich University of the Arts work in small teams to design and implement novel video games. In 2015, Prof. Sumner founded the ETH Game Technology Center, which explores the unique way game technology can advance ETH's mission in research, education, and outreach. Prof. Sumner was selected as one of Next Reality's AR Software Development Leaders of 2018 and his recent speaker engagements include TEDxZurich, World Web Forum, Zurich Game Show, World VR Forum, Global Talent Summit, and Zurich Meets Hong Kong. He was also featured on BBC Click and Ars Technica for his work on Unfolding the 8-Bit Era as well as Reuters for his augmented reality research.

Bio

---

Prof. Young Yim Doh

Games and Life Lab, KAIST

Young Yim Doh is an invited professor in the Graduate School of Culture Technology (GSCT) at Korea Advanced Institute of Science and Technology (KAIST) and the director of the Games and Life Lab. She received a BA/MA/Ph.D. degree in psychology at Yonsei University. She worked as a senior researcher at KAIST Serious Game Lab for 3 years, working on how to apply games to real-world problem solving.

At GSCT, KAIST, as a cyber psychologist with a socio-cultural perspective, her current research interests are focused on analyzing player's experiences and behavioral changes. In addition, she has participated in the social activities of fostering game literacy for healthy game culture and discovering social agendas related to future games. She endeavors to theorize how to make better connections between games and our lives, understand sociocultural phenomena around games, and suggest personalized services and policy strategies. Based on holistic understanding of dynamically connected phenomena between the real world and the game world, her research and practice seek to expand human well-being in the digitalized society.

Bio

---

Anna-Lisa Martin-Niedecken

Game Design ZhdK, Sphery AG

Anna Lisa Martin-Niedecken is Director of the Institute for Design Research and Senior Researcher at the Zurich University of the Arts. With her background in sports science and her expertise in game research (PhD), Anna specialized in the design and evaluation of Serious & Applied Games for health, (e)sports, fitness and rehabilitation.

For her R&D work, she received several awards, was among others featured by TEDx Zurich and was honored as one of Switzerland's 100 Digital Shapers 2020 in the category «The Creatives» by the Swiss business magazine Bilanz.

Besides her job in academia, Anna is Co-Founder and CEO of Sphery, a Zurich-based fitness gaming startup, which received multiple internationally renowned awards for their research-based core product, the ExerCube, as well as for the establishment of the world's first physical inclusive eSports league, the ExerCube League. Anna is also one of the founding members and the Chairwoman of the international Mixed Reality Sports (XRS) Association.

Bio

---

Lauren Guardia

NCSoft

Lauren Guardia is a Localization Specialist with over 8 years of experience currently working at NCSOFT's R&D Center located in Pangyo, just south of Seoul, South Korea. A native Canadian, she also spent 11 years living and working in Zurich, Switzerland.

She first discovered an interest in video game localization when she was hired as an editor for Brave Wave Productions, an independent Tokyo-based video game record label, where she worked on the text for projects such as the Billboard-charting vinyl release of Street Fighter II: The Definitive Soundtrack.

After relocating to Korea in 2018, she began studying Korean and searching for opportunities in the fast-paced Korean gaming industry, eventually securing a position at NCSOFT, one of Korea's largest game companies particularly known for its Lineage, Blade & Soul, and Guild Wars series.
SciTech Concert 1

How Games Meet Life: The impact of gaming on social wellbeing