Despite the outbreak of the COVID-19 pandemic, 20 Swiss DeepTech startups will be taking the virtual stage in Asia this 10 June. Organized by Swissnex in China in collaboration with SwissTech, CES ASIA and Venture Leaders, with the support of institutional partners, the SwissTech Pitchinar 2020 will serve as a testament to Switzerland's leading position as a center of technology and innovation.
Following Switzerland's record-performance at CES ASIA 2019 winning 6 CES Innovation Awards, SwissTech will be taking the stage again in Asia this 10 June – virtually! SwissTech Pitchinar 2020 is to be joined by 20 leading Swiss startups in the fields of HealthTech, IoT, Robotics, Artificial Intelligence, AR/VR, Vehicle Technology and beyond. This first-ever online pitching competition with 20 SwissTech startups is certainly poised to take the recognition of Swiss excellence in tech and innovation to the next level.
The pitching competition will feature 90-second pitches from each of the startups, providing them with a platform to spotlight their products and services with prospective investors, partners and industry experts, to form game-changing partnerships and facilitate their market entry ambitions in the world's fastest-growing innovation ecosystem.
Prominent speakers include Swiss Ambassador to China Bernardino Regazzoni, Head of Presence Switzerland Ambassador Nicolas Bideau and CES ASIA's Gary Shapiro.
The virtual event will be opened by Dr. Felix Moesner, Science Consul and CEO of Swissnex in China – the Science Consulate of Switzerland in China – and moderated by Jordi Montserrat, Co-founder and Managing Director of Venturelab, an organization that supports top Swiss startups in their global expansion.
SwissTech Pitchinar 2020 is organized by Swissnex in China in collaboration with SwissTech, CES ASIA and Venture Leaders, and in partnership with EPFL, ETH Zurich, Greater Zurich Area, Innovaud, Swisscom and Venturelab. The SwissTech Campaign partners are Presence Switzerland, Switzerland Global Enterprise, Innosuisse, digitalswitzerland and Swissnex.
Further information on SwissTech Pitchinar 2020: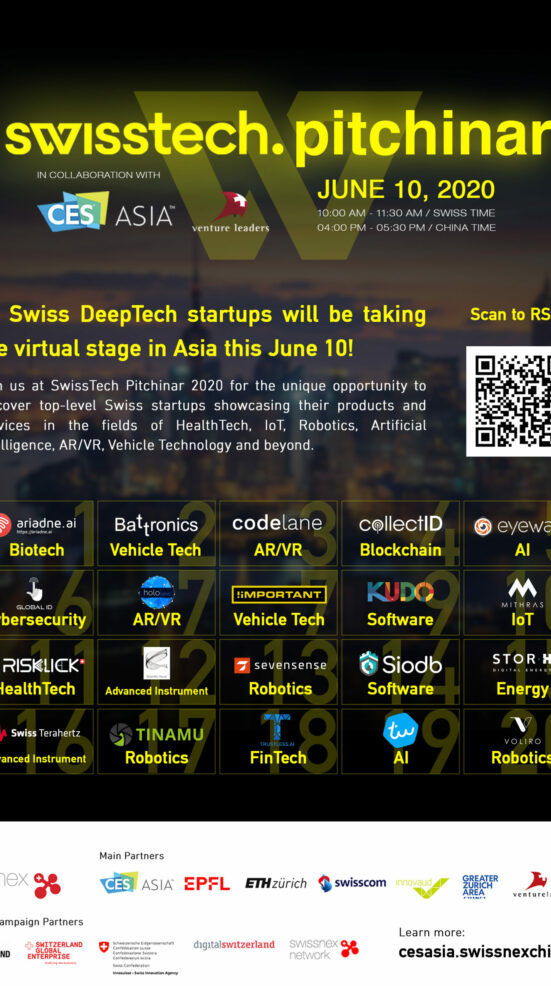 SwissTech Pitchinar 2020 Startups
ariadne.ai | Adrian Wanner | Biotech
High-throughput biomedical image analysis
Battronics | Michael Hess | Vehicle Tech
Battery tech knowledge superpositioning to accelerate research on Li-ion batteries
Code Lane | Simon Heinzle | AR/VR
Emotion-powered human-like 3D avatar rendered in real-time using artificial intelligence
collectID | David Geisser | Blockchain
Authenticity and transparency through Blockchain-Technology
Eyeware | Serban Mogos | Artificial Intelligence
Remote eye-tracking software for laptops, smartphones, cars and more
GLOBAL ID | Sonna Lambert | Cybersecurity
Leading B2B digital authentification solutions provider
holo|one | Jeffrey Li | AR/VR
The Mixed Reality Standard for Enterprises
!important | Bastien Beauchamp | Vehicle Tech
The Safety Belt for Pedestrians
KUDO | Parham Akhavan | Software
Multilingual Video Conferencing and Live Events for Businesses
                                                                                                                                                
Mithras Technology | Franco Membrini | IoT
Wearable technology turning human body heat into usable electricity
Risklick | Poorya Amini | HealthTech
AI solutions enabling analysis and mitigation of clinical trial risks in protocol design phase
Scientific Visual | Frederic Falise | Advanced Instrument
Quality control instrument for semiconductor
Sevensense Robotics | Gianluca Cesari | Robotics
Empowering mobile robots to move into crowded and fast-changing spaces
Siodb | Nicolas Penot | Software
Open Source relational database that secures your data by default
STOR-H Technologies | Michael Levy | Energy
The global energy standard for zero-carbon mobility

Swiss Terahertz | Mostafa Shalaby | Advanced Instrument
High tech terahertz laser technologies for security and quality control
Tinamu Labs | Tobias Nägeli | Robotics
Using drones for automated data acquisition in all environments
TRUSTLESS.AI | Rufo Guerreschi | Fintech
Radically-unprecedented security and privacy for your private digital life, e-health and e-banking
Typewise | David Eberle | Artificial Intelligence
Secure and intelligent human-machine interface
Voliro | Loris Niederberger | Robotics
Revolutionizing work at height