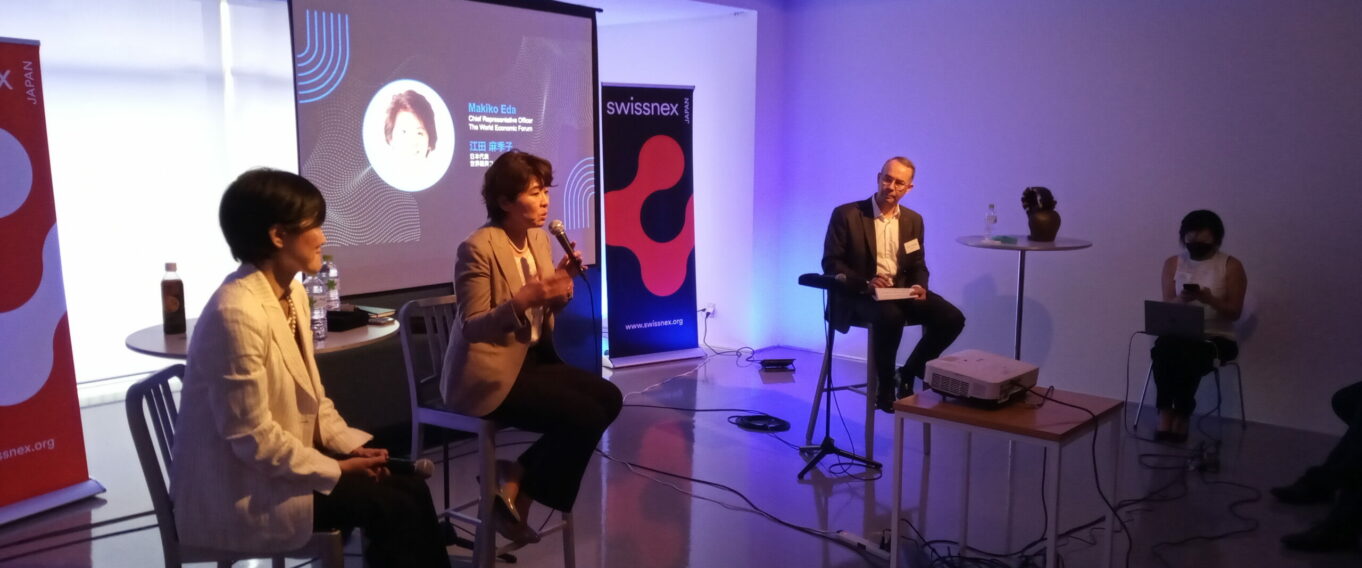 World Economic Forum Annual Meeting Debriefing
July 2022
Summer 2022 marked the first World Economic Forum (WEF) Annual Meeting Debriefing event in Japan. This year's Annual Meeting in Davos was "History at a Turning Point: Government Policies and Business Strategies" that addressed some of the most crucial topics of our world today. Panelists Makiko Eda (Chief Representative Officer, WEF Japan) and Kiriko Honda (Head of Business Engagement Japan, WEF) have presented a brief history of the WEF. The overarching challenges in pandemics, geopolitics, macroeconomics, and climate change impacted most of the discussions in the 400 sessions given by the 8 key themes at the WEF2022. Moderated by Consul Felix Moesner, the panel touched upon gender gap, diversity, climate change, food, future of work, reskilling, upskilling, metaverse, blockchain and crypto. While it is important for us to reflect on the past data and facts that have built up to the discussions at Davos 2022, there was an important message in the need to leverage and build upon what had been reviewed and deliver to the future as well as adapt to Japan. On that hopeful note, our panelists and audience exchanged concepts on what we might expect to address in the next Davos 2023 Annual Meeting and be ready to know whether it is a future we are bracing for, or a future we are prepared for. The audience thoroughly engaged with the panelists asking thought-provoking and in-depth questions. The networking event with individual discussions concluded this insightful event.
Utmost gratitude goes to our trusted partners, the World Economic Forum, Dojima River Forum, and the Swiss Chamber of Commerce in Japan. We plan to be back with the WEF Debriefing in 2023!
Recap & Outlook 2022
Building up a new network has been a top priority for the Consulate of Switzerland, Swissnex in Japan. Many courtesy visits have been held with executives and innovation managers of leading tech-firms in Kansai such as Nestle, Asics, Daikin, Itochu, Kansai Electric, Nankai Railways, Nintendo, Osaka Gas, Panasonic, Rokko Butter, SCREEN, Shionogi, Sumitomo Pharma, and UCC Coffee. There is much interest in Swiss startups and collaboration with universities in Switzerland. In the first 6 months, 14 Swiss startups showed interest in entering the Japanese market, with many more waiting. A strong signal.
The Consulate of Switzerland, Swissnex in Japan continues to explore new formats involving trending and emerging topics, from sustainability, ageing to startups. In Autumn, join us for NexCafé lectures, which provides Swiss scientists, startups and artists a public platform to present their projects; 'Future of Money' panel, which looks into new fintech trends; and two Swisstech event linked to STS forum in Kyoto and BioJapan in Yokohama, which aims to facilitate exchanges and foster partnerships among Swiss startup and tech-industry experts in Japan.
Stay tuned for more exciting news and activities: visit the website (www.swissnex.org/japan), follow us soon on LinkedIn, Twitter or sign up for our bi-monthly Science-Switzerland newsletter (www.swissinnovation.org)