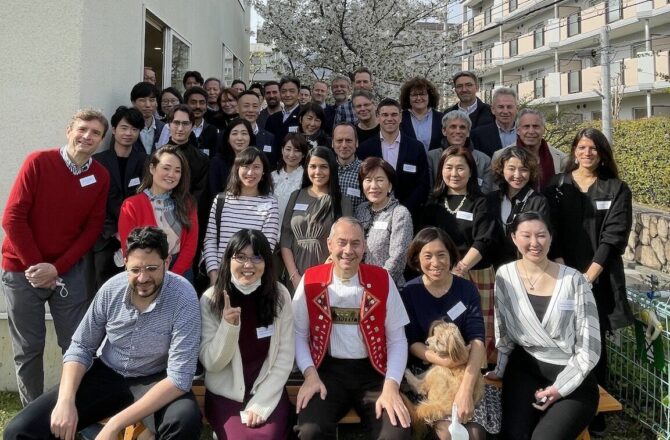 Full house & peak bloom weekend! – With Sakura in full bloom, the first Spring gathering of 𝗦𝘄𝗶𝘀𝘀 𝗨𝗻𝗶𝘃𝗲𝗿𝘀𝗶𝘁𝗶𝗲𝘀 𝗔𝗹𝘂𝗺𝗻𝗶 has been held in Kansai. The full house event has been a great opportunity for networking, delicious Swiss food & drinks, and nostalgia for past and present students of Swiss Universities based in Japan.
The new 𝗖𝗼𝗻𝘀𝘂𝗹𝗮𝘁𝗲 𝗼𝗳 𝗦𝘄𝗶𝘁𝘇𝗲𝗿𝗹𝗮𝗻𝗱, Swissnex in Japan has been organizing this Swiss community event with a top-academic level and many participants coming from Tokyo and impressively even Okinawa! The gathering has been joined by key members of the Swiss Alumni community such as the 𝗦𝘄𝗶𝘀𝘀 𝗦𝗼𝗰𝗶𝗲𝘁𝘆 𝗼𝗳 𝘁𝗵𝗲 𝗞𝗮𝗻𝘀𝗮𝗶 or Swiss Chamber of Commerce and Industry in Japan SCCIJ. Even a representative from TV Osaka has been among the wonderful participants.
There are about 1000 Alumni from Swiss Public Universities in Japan. 𝟱𝟬 𝗔𝗹𝘂𝗺𝗻𝗶 from over 11 world-class Swiss Universities confirmed for this alumni event, some traveling from all over Japan to Kobe. A great Alumni network from EPFL (École polytechnique fédérale de Lausanne), ETH Zürich, Graduate Institute of International and Development Studies, University of Geneva, University of Basel, University of Geneva, University of Lausanne – UNIL, University of St.Gallen, University of Zurich, USI Università della Svizzera italiana, ZHAW Zurich University of Applied Sciences have been present at the gathering.
The new Consulate of Switzerland, Swissnex in Japan is established with its focus on education, research and innovation. Following the tradition of hosting gathering events for Alumni of Swiss Public Universities, as Swissnex in the US (Boston and SanFrancisco), China (Shanghai), India (#Bangalore) and #Brazil (RiodeJaneiro) we arrange regular Alumni gatherings and gladly support Alumni Chapters from Swiss Universities.
We hope that this will foster a lasting and growing network for the Swiss community that we all cherish. There is much potential for more; please stay tuned!