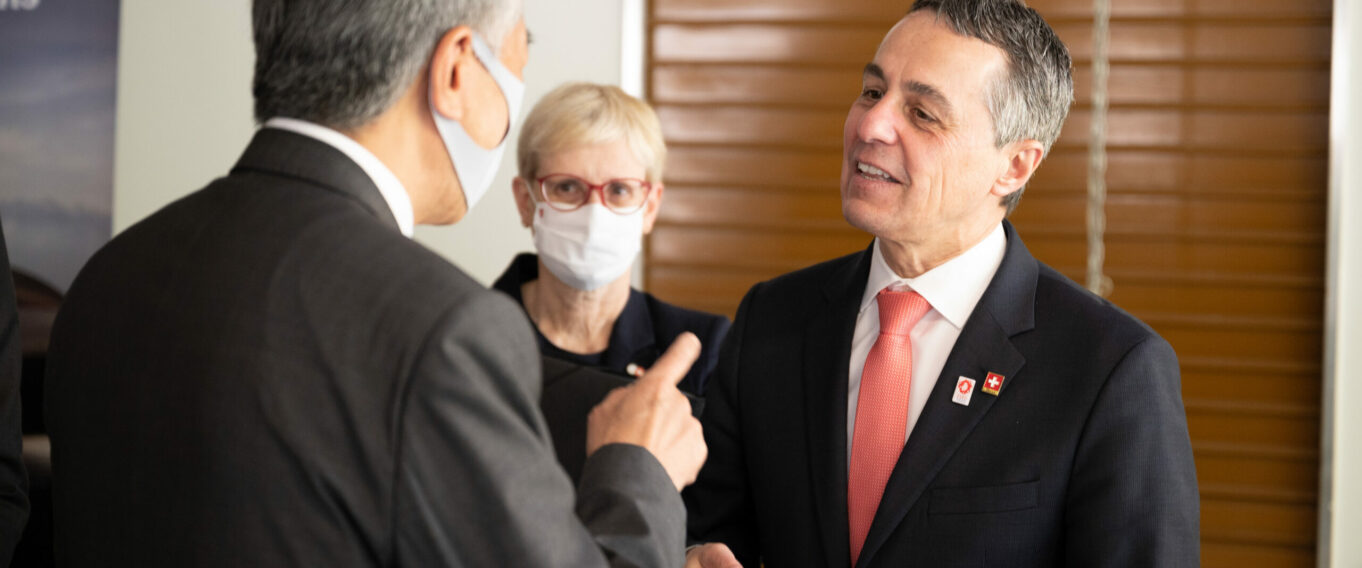 Consulate of Switzerland in Osaka Groundbreaking Ceremony
April 2022
A great moment for Swissnex in Japan. Swiss President Ignazio Cassis conducted the groundbreaking of the new Consulate of Switzerland in Midosuji-Osaka along with Vice-Governor Yamaguchi, Vice-Mayor Takahashi, State Secretary Martina Hirayama, Ambassador Andreas Baum and Consul Felix Moesner, CEO of Swissnex in Japan.
The ceremony has been graced by National Councilor Elisabeth Schneider-Schneiter and State Councilor Thierry Burkart (Switzerland-Japan Parliamentary Friendship Group), and a high-caliber scientific and business delegation from Switzerland. This event commemorated the commitment Switzerland has made to its key partnership with Japan in the fields of education, research, and innovation. Strengthening cooperation with Japan through Kansai's highly dynamic hub offers an ideal ecosystem that we expect leads to more in-depth exchanges between Swiss and Japanese universities, innovation-driven companies, and startups.
The next stop was President Cassis' visit to the world's fastest supercomputer Fugaku in Kobe to sign the letter of intent between RIKEN's Center for Computational Science and CSCS Swiss National Computing Centre managed by ETH Zürich. Finally, Kyoto University President Minato warmly welcomed President Cassis and his delegation. In a speech to 250 students and faculty members, the Swiss President outlined how science diplomacy can help meet the challenges of the 21st century: As a knowledge society and a country recognized for the high quality of its diplomacy and good global governance, Switzerland wants to bring together the world of science and the world of international politics. He invited the student audience to actively partake GESDA – Geneva Science and Diplomacy Anticipator.