A full program for Swiss based Hydrogen Innovators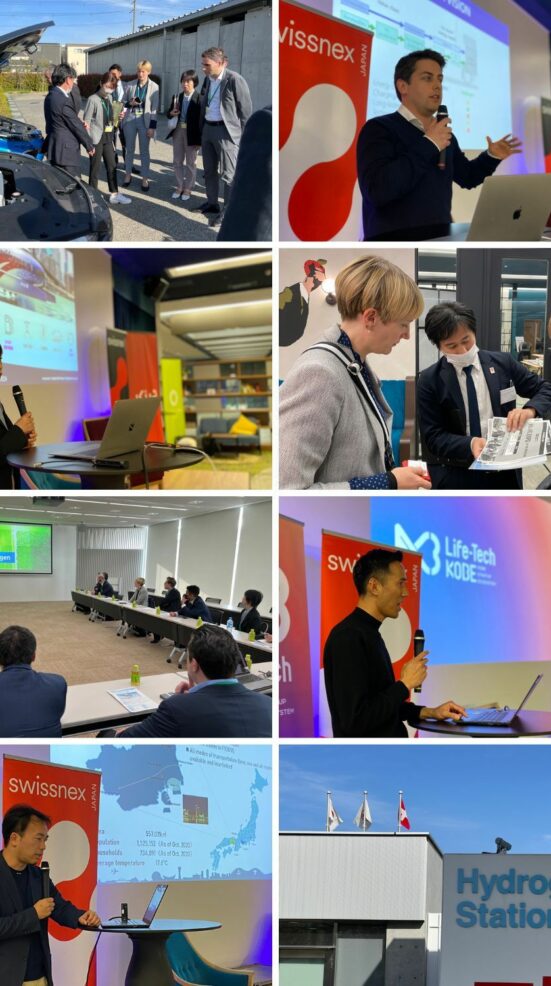 Hydrogen is a versatile and clean energy carrier that can be used for various applications such as transportation, power generation, industry and residential heating. However, producing and using hydrogen in a cost-effective and low-carbon way poses many challenges and opportunities for innovation.

That's why a Swiss delegation of startups and innovative SMEs visited the Kansai region of Japan on March 20th, 2023, to learn from and connect with the local hydrogen ecosystem. The visit was organized by the Consulate of Switzerland in Osaka, Swissnex in Japan and other partners, with the aim of strengthening ties between Switzerland and Japan in the hydrogen industry.

The delegation participated in a policy briefing in the morning with JETRO Osaka, Osaka City Government and Ministry of Economy, Trade and Industry Kansai. The session provided an opportunity for discussions on policies and strategies that could enhance business ties between the two countries in the hydrogen sector. The delegates learned about Japan's Basic Hydrogen Strategy, which was adopted in 2017 as the first national framework for hydrogen development. The strategy covers the entire supply chain from production to downstream market applications and sets ambitious targets for cost reduction and deployment of hydrogen technologies.

After the policy briefing, the delegation visited Iwatani Corporation R&D center in Amagasaki and had the chance to see the first commercial hydrogen pump among many other interesting projects. This visit showcased the Kansai region's expertise in sustainable technology and highlighted the potential of hydrogen as a clean energy source. The delegates also exchanged views with Iwatani researchers on topics such as hydrogen production from renewable sources, liquefaction and transport of hydrogen, fuel cell systems and hydrogen safety.

The day concluded with a networking meetup event in Kobe in collaboration with City of Kobe and Innovation Dojo, bringing together corporations, government officials and students. This event fostered connections and built bridges between Switzerland and Japan. The delegates presented their innovative solutions and products to the audience, ranging from high-pressure valves for hydrogen storage to zero-emission electric vehicles powered by hydrogen fuel cells. The event also featured a several presentations from City of Kobe and from Swiss startups on the opportunities and challenges of hydrogen innovation, moderated by Swissnex in Japan.

The visit was a successful example of how Switzerland and Japan can collaborate on hydrogen innovation and create mutual benefits for both countries. Switzerland has a strong reputation for innovation and quality, as well as a commitment to environmental sustainability. Japan has a leading position in hydrogen technology development and deployment, as well as a large domestic market and global network. By sharing knowledge, expertise and resources, both countries can accelerate their transition to a low-carbon society based on hydrogen energy.

Swissnex in Japan is thrilled to have facilitated this visit and looks forward to continuing to support Swiss-Japanese ties in the hydrogen industry.