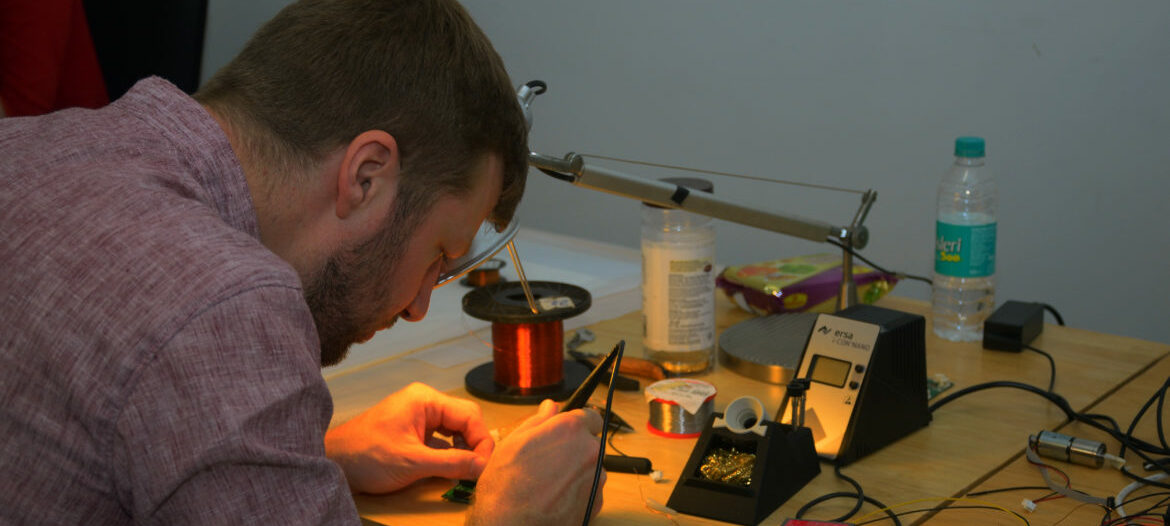 ETH Studio
You won't believe what inspired us to create the ETH Studio in Bangalore.
The story so far...
July 2015. It was a long taxi ride from East Bangalore to the Indian Institute of Science in North Bangalore, in peak traffic hours. Prof. Roland Siegwart was on his India expedition, meeting the key players in the tech arena, in Bangalore. The city's tech realm thoroughly impressed him. Yet, challenges like traffic and lack of proper infrastructure were a cause of concern. This sparked a brilliant idea in his mind. He realised that this apparent issue could also be an opportunity. An opportunity for his students to gain practical exposure, beyond the four walls of their labs.

During the hour-long journey, he recalled his impressive experience with one of the companies he had met the previous day – Pors & Rao Studio. It was a unique art studio, run by renowned artist Aparna Rao, which engages in developing custom mechatronic systems for emotive animatronics. The artists collaborate with many engineering and research students, and have access to excellent precision and hand manufacturing processes. An opportunity to work with them would be the perfect platform for his students to gain inter-cultural experiences and find solutions to unique challenges.

Thanks to Bangalore's traffic, it was at that point that the very idea of what we call today the "India Industry Internships (III) program" was born. This mobility program enables Swiss students to work with the best-in-class automation and robotics experts in India. The support from ETH Global and the Pors & Rao team in Wyss Zurich gave the III program a lot of visibility among the ETHZ students. Over the years, the growing number of applications from Swiss students aspiring to work in Bangalore demanded a wider platform.

Thus, the ETH Studio Bangalore was launched in 2019 to offer ETH Zurich students the exposure to an alternative engineering culture, beyond what is available in Switzerland. The studio aims to solve engineering challenges, and necessitates the students to develop unconventional problem-solving skills with limited resources. Thanks to our partners and the successful III program, the ETH studio has its first member on board, Yves Schär. Yves is currently interning at Pors & Rao Studio, Bangalore.